St. Macartin's Cathedral
Enniskillen, Northern Ireland
Welcome!

The Church of Ireland - part of the Anglican Communion
Services & Meetings
(last updated 5th July 2014)
Hello, you are very welcome to our website. Whether you are already a church member or a visitor, we invite you to look around - you will find much to interest you!

If you have any comments you can use the form on the "Contact us" page. St. Macartin's Church of Ireland Cathedral has a prominent position in the main street of Enniskillen, the largest town in County Fermanagh. The church has a long and distinguished history, much of which you will find on this website. If you know details that we haven't recorded, tell us and we will publish them!
Click HERE to listen to our bells (recorded in March 2003)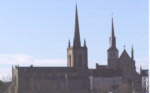 ---
---
---
To go to the Parish Hall redevelopment page click
HERE
THE DEAN WRITES:

Dear Parishioners and Friends around the world,


The Christian life is based on faith. The baptismal service in our Prayer Book instructs us that
"In baptism these children begin their journey in faith" - a faith that will be publicly confessed when they are further instructed in the Christian Faith and confirmed by the Bishop. It is by faith a person is saved, made right with God and attains the undeserved privilege of a place in heaven. Without faith a person cannot please God (Hebrews 11:6). Scripture teaches us that a person has to continue to grow in faith until the last day. Faith is not a one off activity for a believer. Rather, it is a continuous and progressive aspect in Christian life. For example a plant that does not continue to grow will wither and die!

Goodness connects us to the very heart of God; goodness added to our faith makes our faith 'stand out' and really makes people notice that something is different. In today's society many people do not care about what we believe. The world around us does not 'give a hoot' about what we say or what we believe. They only care about how we behave. When our faith impacts on how we behave in a very positive way, that is the difference people are looking for. That is what attracts people to the Christian Life!

We sing "Good is the Lord, our Heavenly King" (Number 42 in our hymn book). That is so true. That is such a powerfully important thing to proclaim and for people to know, but as well as singing it we need to act it out in our lives! When people who do not believe see people of faith living generously, giving sacrificially to help others, caring deeply and taking an interest in people's lives, that is a revelation in itself of the goodness of God. When people see us loving each other as a church family, that is another powerfully magnetic thing, because unconditional love just does not exist anywhere else.

If love can be seen in the church in the way we conduct ourselves and in the way we encourage and love each other; if goodness can come to characterise us as people of faith then the stranger will feel welcome and feel they want to be here. Can you imagine how attractive we will be to the parishioner who returns after a long stay of absence (maybe for various unknown reasons) or the stranger who walks in here on Sunday, wondering what kind of people worship here? Can you imagine what God might accomplish through us in this town and community? So, to quote the second letter of Peter, "……you must make every effort to support your faith with goodness, and goodness with knowledge, and knowledge with self-control, and self-control with endurance, and endurance with godliness, and godliness with mutual affection, and mutual affection with love." That is 'Faith in Action' and the reward is "… a rich welcome into the eternal kingdom of our Lord and Saviour Jesus Christ". (2 Peter 1:11). Is that not the goal we are after?

I do hope that you all have a pleasant and refreshing summer whether at home or on holiday and may you experience the love of God and be able to share that love with those with whom you come into contact!

Yours very sincerely,
Kenneth R J Hall


---
We are somewhat surprised that there are church members who regularly use the Internet but are unaware that this website exists! So if you find it interesting and/or useful, please spread the word around - the more visitors we have the more encouragement there is to keep it alive.
---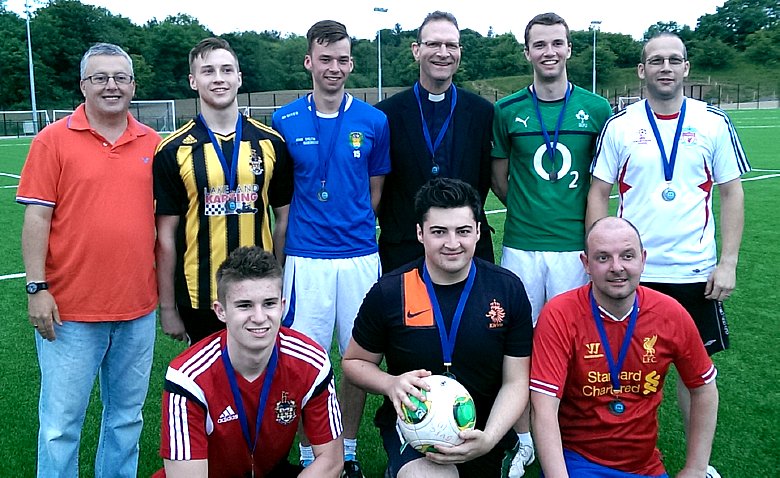 ST MACARTIN'S FOOTBALL TEAM
We congratulate our team of talented players who were runners up in the newly formed 'Barnabas Cup Tournament' (seven a side) held at Ferney Park, Ballinmallard. They drew 1-1 with Magheracross Rovers, beat Enniskillen Presbyterian 2-0, lost to Brookborough Elim 0-3, and beat Aghavea 4-0 . Qualifying for the semi finals they beat Ardess 2-0 but were narrowly defeated in the final by Brookborough Elim 0 -1.

Back Row – Rev Brian Harper (organiser of the tournament) Ross Espie,
Christopher Nixon, The Dean, Adam Shaw and Darren Vance.
Front row – Mark Campbell, Johnathan Boomer and Gareth Palmer