St. Macartin's Cathedral
Enniskillen
---
We have launched a gallery of church related photographs hosted on the Google Photos Website, starting with albums relating to events in 2016 and 2017. Other albums will follow. To access them on PC, Apple computer, smart phone or tablet, click HERE for 2016 and HERE for 2017. When the album loads, click on any one photo and it will enlarge and display singly. You will see buttons at the top right which give you controls such as zoom and run a slideshow. A button with an "i" on it will display information about the photograph where appropriate. Your feedback - and new photographs - would be appreciated!
---
---


Welcome to our website! Whether you are a regular member, occasional visitor or just simply curious, we hope you will find information here that will be interesting and relevant. Perhaps you are planning a trip to Northern Ireland. We would strongly advise making beautiful County Fermanagh part of your itinerary. During the summer our four-century-old church is open to visitors every day and it would be even nicer if you could attend one of our services. We'd love to meet you!
The Dean Writes:

Dear Parishioners and Friends around the world,

As we start a new season at St Macartin's, we do so with a newly refurbished set of halls, the best for miles around! We are
ever so thankful for all that we as a parish have achieved physically and spiritually - not only in the building of bricks and mortar
but in the development in lives of people. As a parish we have grown in a short time from under 500 families to over 600! Therefore this new season is an opportunity for us all to rejoice in our history and the time we have spent together. More than anything it is a chance for us to praise the God who has formed us into this community.

In the book of Philippians (2:1-5), the Apostle Paul reminds the church that they are bound together by Christ. Though we may be different people, we share the communion of the same Spirit. Although we may disagree from time to time, we have been touched by the same joy of salvation. Although we we are diverse, we are tied together by the love of God. As we celebrate our new developments, I encourage us to keep God at the centre of it. There have been many people who have poured their love into this Cathedral and congregation. Countless volunteers have dedicated their time to the Cathedral, and a whole host of clergy have served with their various talents, but this new development is not about the people and the clergy. It is about Almighty God who has guided us. This Cathedral does not stand by the power of people, nor is our building held up solely by the concrete poured below it.

Our Cathedral Church rests on the foundation of God's grace - 'The Church's one foundation is Jesus Christ her Lord'. So let us hold God as the centre of this new development. Likewise, even as we reflect on our past, let us look forward to the future as well. Just as Christ has cared for this congregation in the past, God will guide us into the years ahead. Surely God has plans for us, and it is a plan with hope. Jesus' promise is that He will always be with us. Whether we are reflecting on our past, or looking to our future, let us see God's compassion working within it. So please do not be a spectator looking on, but an active player on the field, doing your part in the work and witness of Almighty God. I look forward to your support in this new season that lies ahead.

Yours very sincerely,

Kenneth R J Hall
Last updated 1st September 2017
Search for any word
on this website:
---

Scroll down to find links to our photographic gallery. 2017 is now live.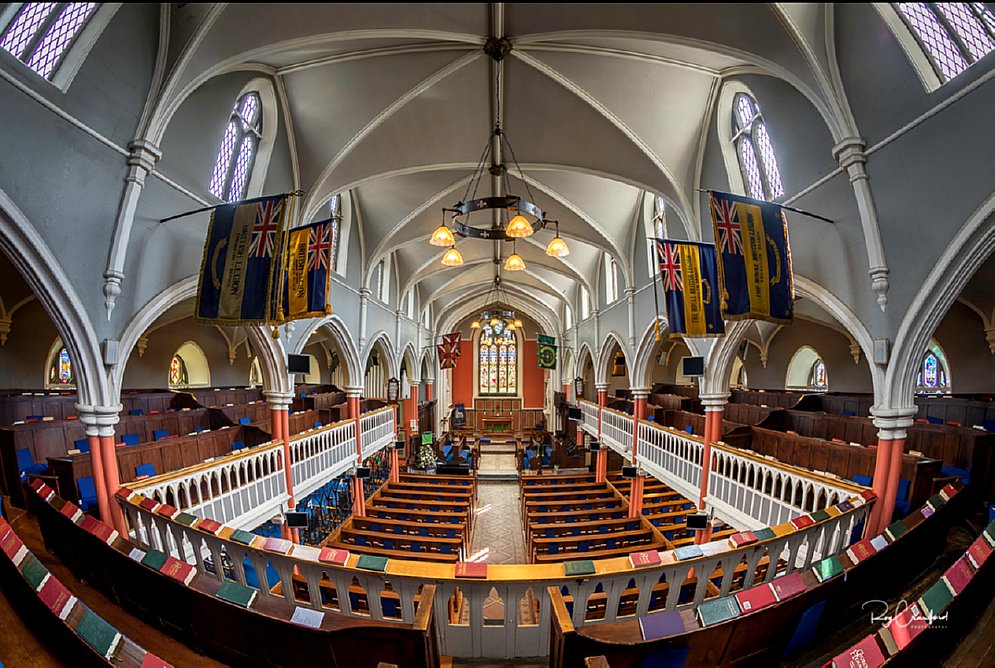 "Fish eye" view of the interior, courtesy of Roy Crawford Photography
http://www.roycrawfordphotography.co.uk/