St. Macartin's Cathedral
Enniskillen, Northern Ireland
Welcome!

The Church of Ireland - part of the Anglican Communion
Services & Meetings
(last updated 26th November 2013)
Hello, you are very welcome to our website, and a very happy and blessed Christmas to all our visitors! Whether you are already a church member or a visitor, we invite you to look around - you will find much to interest you!

If you have any comments you can use the form on the "Contact us" page. St. Macartin's Church of Ireland Cathedral has a prominent position in the main street of Enniskillen, the largest town in County Fermanagh. The church has a long and distinguished history, much of which you will find on this website. If you know details that we haven't recorded, tell us and we will publish them!
Click HERE to listen to our bells (recorded in March 2003)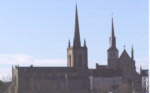 Four Evangelists, One Gospel

I visited the opticians recently and as most of you will know, one of the tests you get there involves identifying which of two sets of circles is clearest. The optician adds a series of lenses and wants to know if you find the object sharper with them or without them. During the Sunday mornings in Lent we have been thinking about the distinctive features of each of the four Gospels. We are blessed to have four different yet similar views of the life and work of
Jesus providing us with different lenses with which to see more clearly why He came, what He did and what it means for us.

In all four accounts of His life we see that the ministry of Jesus has a purpose, He does not simply wander through Galilee teaching and healing, He has a destination in view, Jerusalem; He does not just randomly perform miracles or expel demons, He has a destiny to fulfil, giving his life as a ransom for many. Meeting with Him changes people's lives – a widow's sorrow is transformed, a greedy man becomes generous, a prostitute is given dignity, the lost are searched out, the hungry are given food, those who follow him find hope and a place in God's kingdom.

Holy Week approaches when we would in heart and mind journey again to Jerusalem, make that journey so that as you see the providence and purpose of God in the life of Jesus you might see that providence and purpose worked out in the world of today and in your life today. Don't waste this season, take the journey so that you might meet afresh with the Lord and know his grace amid your trials and sorrows, and know His forgiveness for your sins and His redeeming hope for your life.

Canon Reggie Twaddell is our guest preacher for Holy Week; the series of united services begin on Palm Sunday evening at seven o'clock in the Presbyterian Church, continuing at 8.00 pm in the Cathedral from Monday to Good
Friday and concluding with Easter evening praise at seven o'clock in the Methodist Church. Canon Twaddell worked as a teacher prior to being ordained and served in several parishes before retiring after a long and faithful
incumbency in the large parish of Portadown.

In a changing world where we no longer speak about things being as safe as the Bank of England it is good to have the built in reminder that Holy Week and Easter bring of the eternal and unchanging message of the Cross and Resurrection. Together let us take the opportunity this special season brings to look again to the One the Gospels focus on, Jesus Christ our Lord.
---
We are somewhat surprised that there are church members who regularly use the Internet but are unaware that this website exists! So if you find it interesting and/or useful, please spread the word around - the more visitors we have the more encouragement there is to keep it alive.
---
---
---
---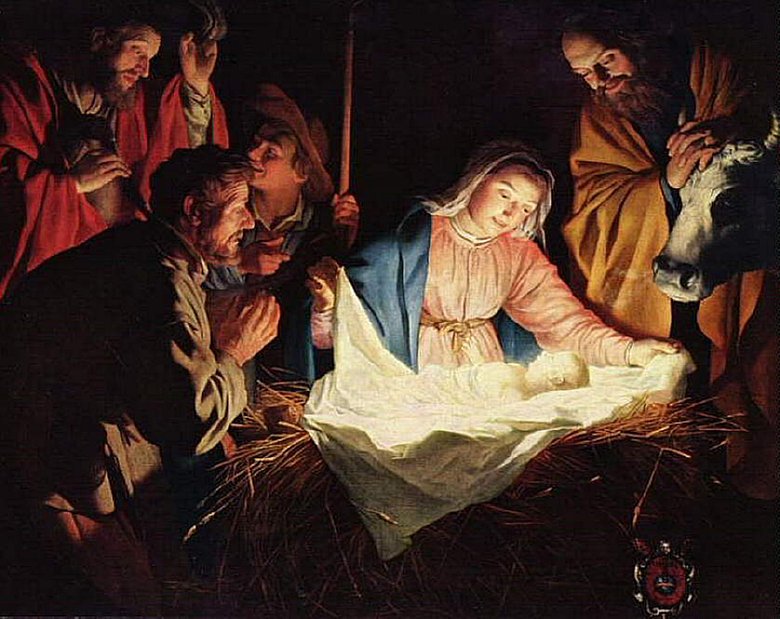 This beautiful painting "The Adoration of the Shepherds" was the work of a Dutch artist, Gerard von Honthorst (1622). Note how radiant light seems to emanate from the Christ child, symbolising the message that this baby will bring to the world.
FREE GIFT!

For you to download absolutely free of charge is a beautiful advent calender for your computer. It displays a different Bible verse from the Christmas Story every day up to and including Christmas Day. It also plays a different Christmas carol every day, ending with Handel's "Hallelujah Chorus" which was specially coded for the program by our webmaster, Willie Holmes and his son, Sammy. It can be set to play automatically every day when you switch your computer on.

Unlike the Cadbury's advent calendar it is completely non-fattening and extremely refreshing!

Just click HERE to download it and once it is on your computer, run the advent.exe file to install it.
When you run it, you will see a winter scene. According the the date, a different Bible verse is displayed each day and a Christmas carol will play. ENJOY! (If you have any problems installing or running it, contact Willie on: enniskillencathedral@gmail.com and he will be pleased to assist you.
---
A Christmas message from our Dean, the Very Reverend Kenneth Hall M. Phil. :




Dear Parishioners and friends around the world,

Why is Christmas such a stressful time of year? For many it turns into some sort of frantic marathon that often begins in October. After weeks of shopping we arrive 'weary' at Christmas Day with precious little goodwill left for anyone, and many glad to see it over! However, it is our choice whether we join in the commercialism of it all or, this year, consider a fresh approach. It should be a time when we have 'Good News of Great Joy'!

Think for a moment! Have you ever tried to open a door in the dark? You first grope to find the keys in your pocket or purse, and then you fumble around, trying to decide which is the right key for this door. Even once you've found the right key, it is a struggle – because now you can't find the lock!

That resembles how many struggle through life, and indeed through the Christmas Season. When Christmas Day is ended, many deem that Christmas is over, but for the Christian it surely must be just the beginning! The Church Christmas Season only begins on 25th December. The Bible describes the birth of Jesus as a light coming into the world. The prophet Isaiah wrote; 'The people walking in darkness have seen a great light.' (Isaiah 9:2) This offers great hope to us all. We do not have to stumble through life in darkness, trying to unlock its mysteries. In St John's Gospel, Jesus offers to lead us. He is 'the light of the world' (John 8:12). Sadly, the danger is that many may be too
used to living without Jesus, and the guidance He offers. For many, Christmas will come and go without them giving a thought to the reason for the season. Many may prefer to stumble about and fall, and only ever cope, rather than succeed. It is better by far to see life in the light of Jesus, 'the light of the world', and to accept his help.

Christmas touches some raw nerves in our lives, including stress, family rows, loneliness and financial pressures. However, God does not remain aloof from our experiences. By His coming in Jesus (Emmanuel – 'God with us') He enters our world of hopes and fears, joys and disappointments. Therefore, He can understand what we are going
through, as He is alongside us offering us His love, His joy, His peace and His forgiveness. It is the mission of our church to promote what God offers. To that end, here in Enniskillen, we want to reach out to all around us putting Saint Macartin's 'at the heart of the community', promoting God's love, joy, peace and forgiveness. A fresh approach!

As our Cathedral Parish places itself 'at the heart of the community' may I ask our own parishioners (all of you) to place yourselves 'at the heart of the Cathedral'? What a difference that would make to your life and to the life of the Cathedral? Our vision would be truly achieved. Mission accomplished!

There are many opportunities for you to attend church during Advent and Christmas and truly worship our Heavenly Father. As you draw close to Him, may you experience that true Heavenly joy that He sent us thought the 'Holy Child of Bethlehem'. Let His grace and forgiveness give you hope. Let His mercy bring you joy.

O holy Child of Bethlehem,
Descend to us, we pray!
Cast out our sin and enter in,
Be born in us to-day.
We hear the Christmas angels,
The great glad tidings tell;
O come to us, abide with us,
Our Lord Emmanuel!

Wishing you every blessing! Kenneth R. J. Hall
Our services for the Christmas season to which of course, all are invited, (not just our own parishioners!) are as follows:

MID-WEEK ADVENT SERVICES
Holy Communion each Thursday during Advent at 11.00am (5th, 12th & 19th December). If you are free please join us!

NATIVITY & CAROL SERVICES

Sunday 1st December at 7.00pm – Diocesan Carol Service– Clogher Cathedral
(no service in Enniskillen)

Sunday 8th December at 7.00pm – Community Carol Service
(see Pew News for details)

Sunday 22nd December at 7.00pm –Parish Carol Service

CHRISTMAS SERVICES

11.00pm Christmas Eve - Holy Communion
Celebrant: The Bishop, Rt Rev John Mc Dowell

9.00am Christmas Day- Holy Communion
Celebrant: The Dean, Very Rev K R J Hall

10.30am Christmas Day - Holy Communion (Family Service)
Celebrant: The Dean, Very Rev K R J Hall
Preacher: The Curate, Rev Rob Clements

You are welcome to attend the service which is most suitable for you. It is hoped that as many families as possible will attend the 10.30am service. All ages are welcome and children are asked to bring with them something that Santa brought (adults can do this too!). The Dean and Curate will take a walk about to view the toys!

REMEMBER WHAT CHRISTMAS IS ALL ABOUT!
He is the reason for the season – so make Christ the centre of your Christmas!
See you at His birthday celebrations in the Cathedral!


---
To go to the Parish Hall redevelopment page click
HERE

You should hear a carol playing on this page. If not a small banner at the top may be asking you if you agree to install an add-on. Say "yes"and the music should play. If you are using Mozilla Firefox as your browser you may need to install the VLC Media Player as an add-on. Download it from
http://www.videolan.org/vlc/index.html
* Carol singing around the parish - Wednesday 11th December at 7PM - meet at the Cathedral Hall *