St. Macartin's Cathedral
Enniskillen
---
We have launched a gallery of church related photographs hosted on the Google Photos Website, starting with albums relating to events in 2016 and 2017. Other albums will follow. To access them on PC, Apple computer, smart phone or tablet, click on any of the links below. When the album loads, click on any one photo and it will enlarge and display singly. You will see buttons at the top right which give you controls such as zoom and run a slideshow. A button with an "i" on it will display information about the photograph where appropriate. Your feedback - and new photographs - would be appreciated!
---


Last updated 14th January 2019
Search for any word
on this website:
---
---
---


Plaque dedicated in memory of Captain Oates in St. Macartin's Cathedral


A plaque has been dedicated in St Macartin's Cathedral, Enniskillen in memory of Captain Laurence Edward Grace Oates, of The 6th Royal Inniskilling Dragoon Guards and a member of Captain Scott's expedition to the South Pole.

The plaque was dedicated at morning service on Sunday, 29th October attended by Viscount Brookeborough, Representative of Her Majesty the Queen for Fermanagh as well as Officers of the Inniskilling Dragoon Guards and their wives.

The service was conducted by the Dean of Clogher, the Very Rev. Kenneth Hall and the sermon was preached by the Rev. Fr. A.E. Strachan CF(RC), Chaplain to The Royal Dragoon Guards.

The hymns were; "Praise, my Soul, the King of Heaven;" "O Valiant Hearts," "I Vow to Thee, My Country, "Be Thou my Vision," "Thine be the glory, Risen, Conquering Son," and "Nearer my God to Thee." The organist was Mr. Glenn Moore.

Prayers were led by the Curate, Rev. Chris McBruithin.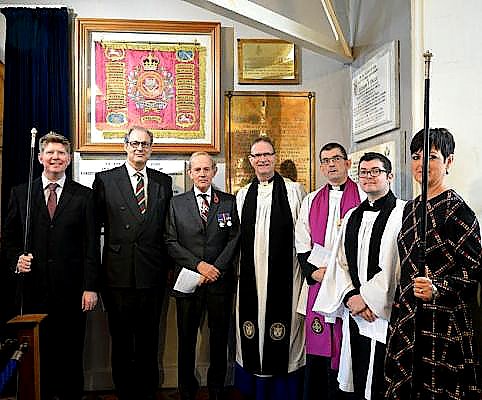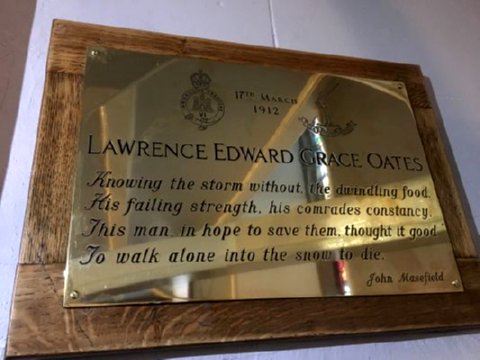 During the act of dedication, The Colonel of the Regiment, Colonel N.C.T.Millen OBE, LM said: "This Cathedral Church is home of our historic regiment, and from this place men of many generations have gone forth to do their duty and serve their country. It is our desire that this Memorial Plaque in memory of Captain Laurence Edward Grace Oates, is relocated to this Regimental Chapel."

The Dean, dedicating the plaque stated: "I receive this Plaque for safe keeping within this Cathedral Church. May all who look upon it be reminded of his duty to God, his Sovereign and his country, in the name of Jesus Christ our Lord. Amen."

Captain Oates was born on St. Patrick's Day, 17th March 1880 and died on St Patrick's Day, 17th March 1912.

As part of the Antarctic Expedition led by Captain Scott, Captain Oates became part of history and an inspiration to all when he died in the Antarctic blizzard on 17th March 1912. Knowing he was about to walk to his death his reported last words were: "I am just going outside and I may be some time."

He had been a soldier since leaving Eton, seeing active service in the South African War.

However it is for his role in the Antarctic Expedition that he was to become best known. Although Captain Scott's party reached the South Pole on 18th January 1912, it was 34 days after Roald Amundsen from Norway. It was on the return journey that Captain Oates realised he could go no further and walked into a blizzard to his death. His body was never recovered.
Click on the album that you would like to view:
PHOTO GALLERY
---
Women's Institute Remembrance Meeting - 10th November: This album has no direct link to the cathedral, but some of our parishioners are members of the W.I. Pictures taken by our cathedral photographer can be viewed by clicking HERE
You can also send the following link to friends - just copy and paste it into an e-mail: https://photos.app.goo.gl/UjmYyMtGhiy4zWfW7
And an album of photos from Remembrance Sunday can be viewed by clicking HERE