St. Macartin's Cathedral
Enniskillen
---
We have launched a gallery of church related photographs hosted on the Google Photos Website, starting with albums relating to events in 2016 and 2017. Other albums will follow. To access them on PC, Apple computer, smart phone or tablet, click HERE for 2016 and HERE for 2017. When the album loads, click on any one photo and it will enlarge and display singly. You will see buttons at the top right which give you controls such as zoom and run a slideshow. A button with an "i" on it will display information about the photograph where appropriate. Your feedback - and new photographs - would be appreciated!
---
---


Welcome to our website! Whether you are a regular member, occasional visitor or just simply curious, we hope you will find information here that will be interesting and relevant. Perhaps you are planning a trip to Northern Ireland. We would strongly advise making beautiful County Fermanagh part of your itinerary. During the summer our four-century-old church is open to visitors every day and it would be even nicer if you could attend one of our services. We'd love to meet you!
The Dean Writes:

Dear Parishioners and Friends around the world,

The Book of Acts records how the early Church spread the Gospel throughout the known world - so much so that within 300
years they had turned the world upside down! The Book of Acts is one of the most exciting stories in the Bible. It tells how the
Church grew from a group of disillusioned men and women at the time of Jesus' crucifixion to a powerful body that reached Rome. Jesus gave His Church a simple yet impossible task, and as a result of their obedience to it, we are here today. As recorded in St Matthew's account of the Gospel, just before He left this earth, He told them:

"Therefore, go and make disciples of all nations baptising them in the Name of the Father, the Son and the Holy Spirit and teaching them to obey everything I have commanded you. And surely I am with you till the end of the age"

When the first disciples first heard this it must have been very daunting. Yet Jesus gave them very clear instructions how they were to go about it. He did not allow them to just go off and do so immediately, He told them to wait. Jesus said:

"But you shall receive Power when the Holy Spirit has come upon you and you shall be my witnesses in Jerusalem and in all Judea and Samaria and to the ends of the earth". Acts 1:8

In other words, Jesus himself would enable them to fulfill the Great Commission by giving them the power of the Holy Spirit.
Pentecost is the day when we remember the eruption in which the Church came to birth. It is also the day when we remember the countless ways in which the Holy Spirit shapes the Church as an institution and ourselves as individuals. It is also the day when we are reminded that once we have received the Holy Spirit, we are required and enabled to take a stand for good and against evil in whatever circumstances we find
ourselves. The Holy Spirit will teach us to love God and neighbour and He will reward us by giving us a life worth living. That life may not be easy or trouble-free, but it will be worth living.

May I suggest that we make it our prayer to ask God to send down that same power as He did at Pentecost almost 2000 years ago so that we can be effective followers and communicators of the Gospel…….. "So that we can be His witnesses – in Jerusalem, in Judea and Samaria – in Enniskillen, and to the ends of the earth." (Acts 1:8 with Fermanagh modification!)

Yours very sincerely,

Kenneth R J Hall
Last updated 29th May 2017
Search for any word
on this website:
---

---
Scroll down to find links to our photographic gallery. 2017 is now live.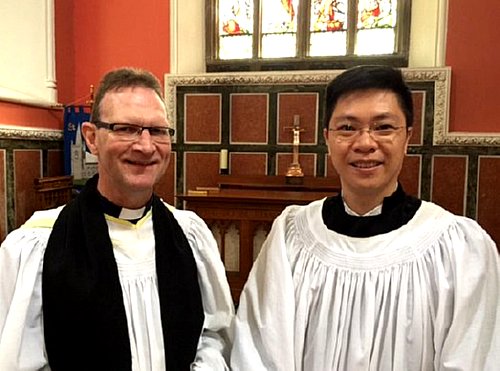 Our Visiting Hong Kong Student

I am Walter LAU Wai-lun. I am an ordinand of Hong Kong Sheng Kung Hui (Hong Kong Anglican Church). I am now 41 years old. I am married and have an eleven year old son and a nine year old daughter. My wife is an accountant. Before my training, I was a police officer in Hong Kong. I served for almost twenty years and I was a detective for fifteen of them.
This is my final year of training. I will be ordained Deacon on 1st November this year. I am glad to have a chance to visit Enniskillen and join into the church life of St. Macartin's Cathedral. I have derived much benefit from the ministries of
the Cathedral. I have experienced the importance of "One Community" and the ministry of reconciliation. This is a precious experience for my future ministry.
Also, I appreciated Dean Kenny for his teaching and sharing. His passionate heart has encouraged me a lot and been an example to me. Although it is a short period of time, we have already built up a good relationship with all of you. I believe that this is just a beginning. I hope that I will visit Enniskillen with my parishioners in the near future. Of course, all of you are welcome to Hong Kong!
---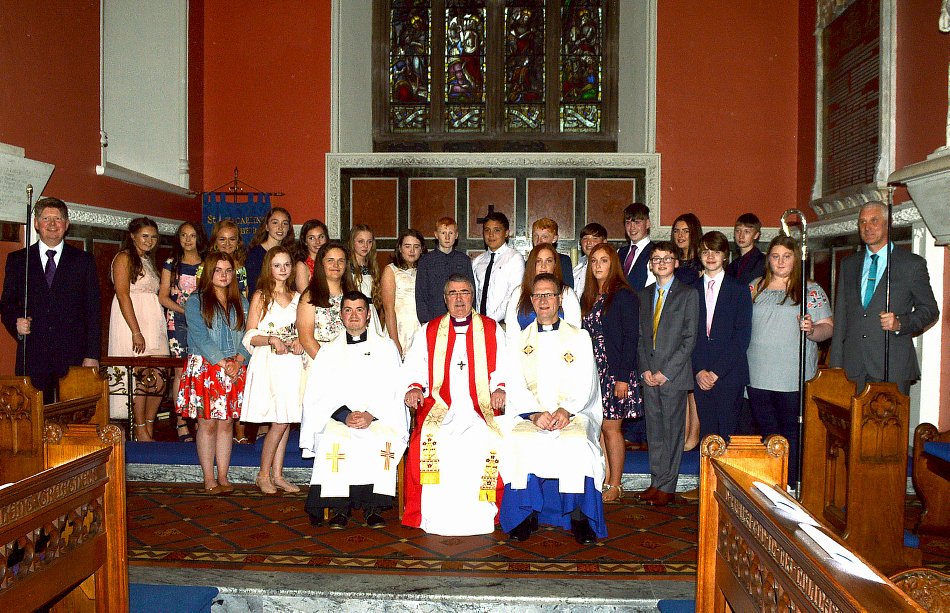 Pictured at the Confirmation Service on Sunday 14th May 2017 are The Dean, The Very Rev Kenneth Hall and The Curate, The Rev Chris MacBruithin along with The Bishop, The Rt Rev John McDowell and the confirmation candidates: Lewis Allen, Erin Coates-Loughlin, Hannah-May Connolly, Connor Egerton, James Elliott, Jemma Elliott, Katie Elliott, Lauren Fawcett, Zoe Fitzpatrick, Jack Foster, Rhea Holmes, Nathaniel Johnston, Victoria Lindsay, Brooke McCabe, Hannah McNutt, Lucy McRoberts, Joshua Martin, Jessica Murray, Bethany Noble, Alisha Noble, Josh Saunderson, Joshua Watson, Kenzie Wilson. Also in the photograph are the Churchwardens, Mr David Clarke and Mr Richard Cochrane. Ten parishioners were also Confirmed at an Adult Confirmation Service in the former Portora Royal School Chapel on Ascension Thursday.
Confirmation 2017