St. Macartin's Cathedral
Enniskillen, Northern Ireland
Welcome!

The Church of Ireland - part of the Anglican Communion
Services & Meetings
(last updated 4th September 2014)
Hello, you are very welcome to our website. Whether you are already a church member or a visitor, we invite you to look around - you will find much to interest you!

If you have any comments you can use the form on the "Contact us" page. St. Macartin's Church of Ireland Cathedral has a prominent position in the main street of Enniskillen, the largest town in County Fermanagh. The church has a long and distinguished history, much of which you will find on this website. If you know details that we haven't recorded, tell us and we will publish them!
Click HERE to listen to our bells (recorded in March 2003)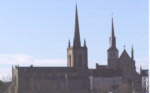 ---
---
---
To go to the Parish Hall redevelopment page click
HERE
THE DEAN WRITES:

Dear Parishioners and Friends around the world,

As we begin a new season in church life it is a good opportunity to refocus! We all need to refocus
on building relationships. None of us can survive in this world alone. We were not created to live in
isolation. There is no such thing as an army of one! To think that you do not need other Christians
supporting and helping you is mere fantasy. To think you can survive emotionally separated from
family and friends is a destructive illusion. The Bible says, "We do not live to ourselves, and we do
not die to ourselves."(Romans 14:7). The reality is that we need each other, and because we need each other, we need to build relationships. This is what the church is all about. The church is not an organisation, it is an organism. The church is not only a place, it is people. The church is the 'Body of Christ'! When we are together, God meets us in ways that he does not meet us when we are alone. That is why Jesus said, "For where two or three are gathered in my name, I am there among them." (Matthew 18:20). When we come together, God comes to meet with us.

The Bible knows nothing of Christians apart from the body of Christ. Imagine a hand or an eye trying to exist alone apart from the body! It does not matter how important the part is, it cannot exist away from the body for which it was designed to be a part. Not only do you need the body, the body needs you! What happens the body when an arm is
lost? The whole body suffers. In the same way, if you do not take an active part in church activities or worship, the church loses out. The body of Christ needs you. You offer something that no other part of the body can offer in just the same way. By thinking you have nothing to contribute, you rob the body of something very important.

We should refocus on a life of service. One of the great tragedies of our world is people who live only for themselves. Their whole world centres around them. Everything is measured by how it affects them, and the only effort they put forth is on things which will benefit them. Their focus is on 'getting' instead of 'giving'. They want to be served rather than serve. However the mark of true disciples of Jesus Christ is people who want God to use their lives. They want to serve God by serving others. They have an outward focus rather than an inward focus. They want to express God's love to the community around them, and have their lives make a difference.

When you allow God to build up your personal life, the whole body of Christ is built up. When you are working to build relationships, other Christians benefit. When you decide to let God use your life in service, the whole world profits. God's plan is that we all use our special gifts for His kingdom. Our lives can mean something if we choose to live for something besides ourselves. There is a place for all of us, for the Scriptures says, "The gifts He gave were that some would be apostles, some prophets, some evan-gelists, some pastors and teachers, to equip the saints for the work of ministry, for building up the body of Christ, until all of us come to the unity of the faith and of the knowledge of the Son of God, to maturity, to the measure of the full stature of Christ. (Ephesians 4:11-13).

What are you doing with your life? How does God fit into your week? I hope He is not squeezed in, or worse still, squeezed out! If that is the case you are missing God's will and God's blessing. Cardinal John Henry Newman said, "God has created me, to do Him some definite service; He has committed some work to me which He has not committed to another. I have my mission — I may never know it in this life, but I shall be told it in the next. I am a link in a chain, a bond of connection between persons. He has not created me for nothing. I shall do good, I shall do his work. Therefore, I will trust him. Whatever, wherever I am. I cannot be thrown away."

We all have a part to play in God's plan for the Church, our communities and our world. So let us all refocus our lives so as to play a part together as the body of Christ.

"I was glad when they said unto me,
'Let us go into the house of the Lord'." Psalm 122:1

Yours very sincerely,
Kenneth R J Hall

---
We are somewhat surprised that there are church members who regularly use the Internet but are unaware that this website exists! So if you find it interesting and/or useful, please spread the word around - the more visitors we have the more encouragement there is to keep it alive.
---