St. Macartin's Cathedral
Enniskillen, Northern Ireland
Welcome!

The Church of Ireland - part of the Anglican Communion
Services & Meetings
(last updated 3rd December 2014)
Hello, you are very welcome to our website. Whether you are already a church member or a visitor, we invite you to look around - you will find much to interest you!

If you have any comments you can use the form on the "Contact us" page. St. Macartin's Church of Ireland Cathedral has a prominent position in the main street of Enniskillen, the largest town in County Fermanagh. The church has a long and distinguished history, much of which you will find on this website. If you know details that we haven't recorded, tell us and we will publish them!
Click HERE to listen to our bells (recorded in March 2003)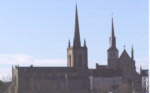 ---
---
---
To go to the Parish Hall redevelopment page click
HERE
A Christmas message from our Dean, the Very Reverend Kenneth Hall M. Phil. :

Dear Parishioners and Friends around the world,

About 700 years before Jesus was born, the prophet Isaiah spoke of His Coming.There was
something in Isaiah's Words that spoke to his people. There was something in the message of
this Child that was to be born, this Son that was given, that gave Israel a reason to cheer.

"For unto us a Child is born, Unto us a Son is given; And the government will be upon His shoulder: And His name will be called Wonderful, Counsellor; Mighty God, Everlasting Father; Prince of Peace." (Isaiah 9:6)

Many in Isaiah's day were not godly people. In fact, the nation of Israel had messed up so badly, that God was bringing the nation of Assyria down upon them to punish them. They were walking in darkness - in the shadow of death - because they had abandoned God. And it was to these people (who walked in darkness) that God gave the guarantee of a great light, a child of hope and promise, and a future for their people that would be a Wonderful Counsellor, a Mighty God, an Everlasting Father, and a Prince of Peace.

That promise still stands for all of us today, whether we are walking in light or darkness. If we are walking in light, following Him, then we will know His Peace and Presence with us, but if you are not and are struggling through dark days or 'the pits of life', then that message is all the more important, because it was also written for you! The Child that was born at Bethlehem brings hope in an uncertain world to all who call upon Him, and acknowledge Him as their trusted Friend.

There are many opportunities for you to attend church during Advent and Christmas and truly worship our Heavenly Father. As you draw close to Him may you experience that true Heavenly joy that He sent us though the 'Holy Child of Bethlehem'.

Let His grace and forgiveness give you hope. Let His mercy bring you joy!

Wishing you every blessing

Yours very sincerely,

Kenneth R J Hall

---
We are somewhat surprised that there are church members who regularly use the Internet but are unaware that this website exists! So if you find it interesting and/or useful, please spread the word around - the more visitors we have the more encouragement there is to keep it alive.
---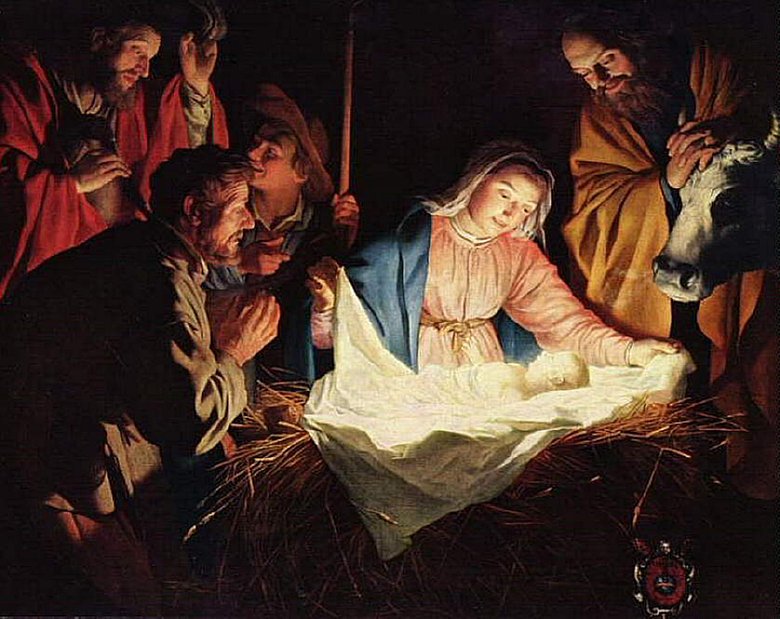 This beautiful painting "The Adoration of the Shepherds" was the work of a Dutch artist, Gerard von Honthorst (1622). Note how radiant light seems to emanate from the Christ child, symbolising the message that this baby will bring to the world.
* Carol singing around the parish - Wednesday 17th December at 7PM - meet at the Cathedral Hall *
Our services for the Christmas season to which of course, all are invited, (not just our own parishioners!) are as follows:

MID-WEEK ADVENT SERVICES
Holy Communion each Thursday during Advent at 11.00am (4th &11th December). If you are free please join us!
(Please note there will be no service on the 18th as rehearsals for the Portora carol service will be on that morning.

NATIVITY & CAROL SERVICES

Sunday 30th November at 7.00pm – Diocesan Carol Service– Clogher Cathedral (service as usual in Enniskillen)

Sunday 7th December at 7.00pm – Community Carol Service (begins in St. Michael's R.C. Church and ends in the Methodist Church)

Sunday 21st December at 7.00pm –Parish Carol Service

CHRISTMAS SERVICES

11.00pm Christmas Eve - Holy Communion
Celebrant: The Bishop, Rt Rev John Mc Dowell

9.00am Christmas Day- Holy Communion
Celebrant: The Dean, Very Rev K R J Hall

10.30am Christmas Day - Holy Communion (Family Service)
Celebrant: The Dean, Very Rev K R J Hall
Preacher: The Curate, Rev Rob Clements

You are welcome to attend the service which is most suitable for you. It is hoped that as many families as possible will attend the 10.30am service. All ages are welcome and children are asked to bring with them something that Santa brought (adults can do this too!). The Dean and Curate will take a walk about to view the toys!

REMEMBER WHAT CHRISTMAS IS ALL ABOUT!
He is the reason for the season – so make Christ the centre of your Christmas!
See you at His birthday celebrations in the Cathedral!


---
You should hear a Christmas carol playing on this page - if not there may be a box at the bottom of your screen asking your permission for it to play. If you are using another browser and it doesn't work, try Internet Explorer.