St. Macartin's Cathedral
Enniskillen, Northern Ireland
Welcome!

The Church of Ireland - part of the Anglican Communion
Services & Meetings
(last updated 16th April 2014)
Hello, you are very welcome to our website. Whether you are already a church member or a visitor, we invite you to look around - you will find much to interest you!

If you have any comments you can use the form on the "Contact us" page. St. Macartin's Church of Ireland Cathedral has a prominent position in the main street of Enniskillen, the largest town in County Fermanagh. The church has a long and distinguished history, much of which you will find on this website. If you know details that we haven't recorded, tell us and we will publish them!
Click HERE to listen to our bells (recorded in March 2003)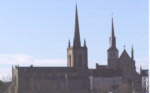 ---
We are somewhat surprised that there are church members who regularly use the Internet but are unaware that this website exists! So if you find it interesting and/or useful, please spread the word around - the more visitors we have the more encouragement there is to keep it alive.
---
---
---
To go to the Parish Hall redevelopment page click
HERE
THE DEAN WRITES:

Dear Parishioners and Friends around the world,

Are you a pet-lover? Many people own a dog, a cat or a budgie, but most of us don't own a
donkey! Certainly space in the Deanery yard and garden curtails my farming ambitions to silkies and bantams! However in Biblical times most people had animals and donkeys were essential to daily life. They did everything from helping to grind corn, to ploughing, to carrying people, to transporting their belongings. Despite their small frame, donkeys are surprisingly tough. They are content with poor fodder such as thistles, and can travel an average of twenty miles a day. There are two occasions in the Christian calendar when donkeys come into the picture. At Christmas, Mary travelled the hundred miles from Nazareth to Bethlehem on a donkey, and on Palm Sunday Jesus entered Jerusalem riding on a donkey. Jesus deliberately chose this animal rather than a horse. Why? In Biblical times, the horse was associated with war, conquest and worldly might, but the donkey was a symbol of peace and humility. Jesus used this animal to show that he had come with the dignity of the King of Peace. His entry into the Holy City also fulfilled Zechariah's prophecy concerning the Messiah.

Donkeys are hardworking and undemanding. They wait for their master to put them to the work he has chosen for them, and, remarkably, each one bears the mark of the Cross on their backs! Perhaps that is something we should learn - to wait for Jesus our Master, to be always obedient to Him, to serve Him with all our hearts, and to bear the mark of His Grace in our lives.

This Holy Week I hope you will make every effort to do just that and experience the 'new life and fresh hope' that Jesus offers all who commit their lives to worship and follow Him. For our own parishioners, during Holy Week and Easter there will be many opportunities to get involved in the life and witness of our cathedral – your cathedral and my cathedral as together we proclaim 'This is our Church'. We want our cathedral church to be a vibrant Christian witness in the community it serves, and the most important resource we need is its people! It must give God pleasure to see so many faithful attenders at church all around the world, however I am sure He also waits with eager anticipation on many to return. If you have slipped away from coming to church, a warm welcome awaits your return, wherever you live and there is no better time than now!

May God bless all of you and may you experience that 'new life and fresh hope' this coming Holy Week and Easter.

Yours very sincerely,

Kenneth R.J. Hall


Scroll down fror our special Easter programme!
LENTEN SERVICES

Wednesday 2nd April 7.30pm- Compline
Thursday 3rd April 11.00am – Holy Communion
Wednesday 9th April 7.30pm- Compline
Thursday 10th April 11.00am - Holy Communion



CATHEDRAL PARISH MISSION 2014

'This is our Church'

Palm Sunday - 13th April:
9.00am Holy Communion
10.30am Our special Holy Week Mission will begin with a 'Palm Sunday Procession' from our Cathedral Halls at 10.30am. All parishioners, especially our Sunday School children, are encouraged to travel in this procession as we remember Jesus' triumphant entry into Jerusalem. A donkey will lead the procession, palm branches will be carried and we will proclaim 'Hosanna, Hosanna, blessed is He who comes in the name of the Lord'
11.00am Family Service
7.00pm Palm Sunday Praise - Preacher: The Bishop

Monday 14 April:
2.00pm – 4.00pm – Messy Church at the Buttermarket
6.30pm – Confirmation Café
7.30pm – Holy Week Service – Preacher The Bishop

Tuesday 15 April:
2.00pm – 4.00pm – Afternoon Tea: The Students will host an afternoon of fun and fellowship for all in our parish who are aged over 55. This is for both men and women and we do hope as many as possible will turn up and enjoy an afternoon together and with the students. It is hoped that many will offer lifts to parishioners in their own area who have no transport. The minibus will also be available to do collections so please book through Beth in the Cathedral Office.
7.30pm – Holy Week Service – Preacher The Bishop

Wednesday 16 April:
2.00pm - 4.00pm - Messy Church at the Diamond
7.30pm – Holy Week Service – Preacher The Bishop

Thursday 17 April: Maundy Thursday
11.00am: Holy Communion followed by tea and coffee
4.00pm Messy Church in Cathedral Hall
7.30pm – Maundy Thursday Service – Preacher The Bishop

Good Friday:
10.30am – Good Friday Procession from Cathedral Hall This is similar to that of the Palm Sunday Procession only this time the mood has changed! The once joyful crowd have now turned bitter and angry and their cry has changed from 'Hosanna' to 'Crucify Him'. All will follow a cross along the footpath up Hall's Lane, down Church Street and into the Cathedral.
11.00am – Good Friday Family Service
7.30pm – Meditation and Tenebrae Service – All will end in darkness! Preacher: The Bishop

Easter Saturday:
8.30am -10.30am – Parish Family Breakfast in the Cathedral Hall. Please book your place by returning the reply slip on the letter you received,or by telephoning Beth in the Parish Office.
7.30pm – Vigil – St Macartin's Youth Event. This is an event not to be missed by any of our young people aged 11+ featuring bands, new media and a fresh look at Easter!

Easter Sunday:
9.00am – Holy Communion
11.00am – All age Service with Holy Communion
7.00pm – Evening Prayer

Look out for the mission team in the town all through Holy Week. We hope to have Vox interviews, giveaways and random acts of service as we share God's love in the town.

Easter - New Life Fresh Hope


---
Mothering Sunday Service 2014

Mothering Sunday in the British Isles occurs half way through Lent and here at St. Macartin's we always dedicate the morning family service to paying tribute to all the mothers in the congregation - and not just mothers indeed every female person present receives special recognition. There were special hymns and prayers at this year's service and new members were welcomed into the Mothers' Union. Children were invited to present beautiful Primula plants to their mothers and all other women and girls were also each given a plant. Below is a photograph of the 250 or so plants before they were distributed.

---
---
NEW