St. Macartin's Cathedral
Enniskillen, Northern Ireland
Welcome!

The Church of Ireland - part of the Anglican Communion
Services & Meetings
(last updated 30th April 2015)
Hello, you are very welcome to our website. Whether you are already a church member or a visitor, we invite you to look around - you will find much to interest you!

If you have any comments you can use the form on the "Contact us" page. St. Macartin's Church of Ireland Cathedral has a prominent position in the main street of Enniskillen, the largest town in County Fermanagh. The church has a long and distinguished history, much of which you will find on this website. If you know details that we haven't recorded, tell us and we will publish them!
Click HERE to listen to our bells (recorded in March 2003)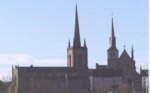 We are somewhat surprised that there are church members who regularly use the Internet but are unaware that this website exists! So if you find it interesting and/or useful, please spread the word around - the more visitors we have the more encouragement there is to keep it alive.

The Dean writes:

Dear Parishioners and Friends around the world,


The Emmaus Road event (St Luke 24:13-35) is a story worth reading again and again
because it is at the very heart of the Gospel. It highlights the living hope found only in the Resurrection. Human hope is a fragile thing, and when it withers it is difficult to revive. When you see yourself or someone you love overtaken by illness, which goes on, and on, despair sets in. It almost becomes impossible to hope for recovery, to be even afraid to hope because of not being able to cope with another let down. The two disciples on the road to Emmaus had a real sense of hopelessness, and they were trapped in their misery. "We had hoped ..." I wonder if this is something that we can identify with? Has something (sickness or circumstances) or someone come between our relationship with God? If so, read the Emmaus story once more because the heart-breaking experience is only its beginning!

These two had given up on Jesus because they could not understand the Scriptures, but Jesus did not give up on them. Jesus knew their need and so He came to where they were, joined them and revealed Himself to them in the Breaking of Bread. Returning to Emmaus they missed the significance of the greatest event because they were too focused on their disappointments. In fact they failed to recognise Christ in spite of His physical closeness to them, walking right beside them. To compound the problem they were walking in the wrong direction - away from the fellowship of believers in Jerusalem. They were so overwhelmed by their shattered hopes that they could not understand the Scriptures.

We can easily judge them for not recognising Christ and many of us are under the impression that we are so much better than those first disciples, but if we are honest with ourselves we have also gone through similar experiences when we behaved just like they did. There have been times when we also have been blind and given up all hope. There have been times when we have prayed and received no help and lost all hope. There have been times when we have prayed and the problems have only worsened, when we have prayed for healing and got more sick. This however does not mean that God has left us alone. We only believe He has done so because life often has a way of blurring our vision, our understanding, our faith, and our hope. It makes us want to run away from our difficulties, but we have a God who not only comes looking for us, but also draws near and travels with us until we can clearly see again.

God will never abandon us and the truth is that we often abandon Him. He is present with those who are genuinely struggling with their faith and with those who sincerely want to believe. He is present with those without hope who just can not see God in their circumstances. He is a lot closer than we think. We may even be blind to His presence right now but He is right next to us or walking beside us on the road we have chosen in life. In the case of the two disciples it was not until Jesus broke the bread that their eyes were finally opened and they recognized Him. Holy Communion helps us to focus on Jesus instead of ourselves. It reminds us of His constant love and His presence.

When we allow circumstances to over shadow the truth it is easy to become depressed, to lose focus and begin to doubt and give up, but God never gives up on us and He fulfils His promise never to leave us or forsake us. If the road of your life is taking you somewhere other than where you hoped to go, you can trust Jesus today to turn things around. If you will allow Him, He will put you on the same road again only this time with a different destination, a different conversation, different observations, and different realisations.

May we learn from this Emmaus Road event and the blessings of Holy Communion, and when we take part in the Sacrament may we recognise Him at Breaking of Bread?

Yours very sincerely,

Kenneth R J Hall
---
---
---
---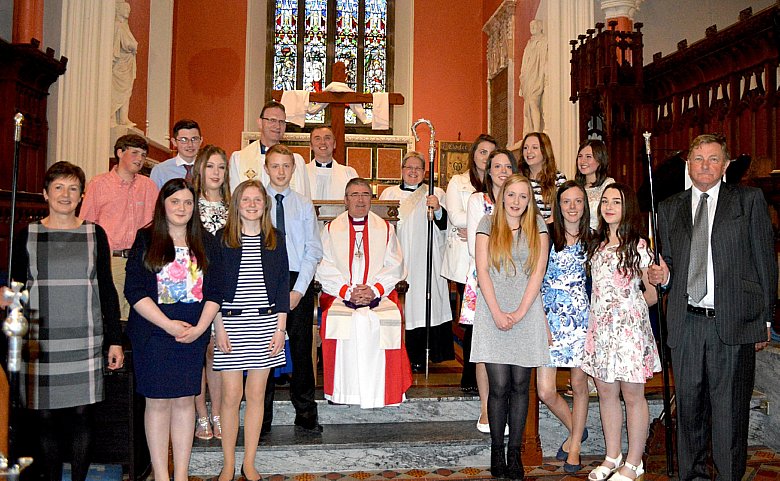 The group of young people who were confirmed at a special service on Sunday 26th April 2015: Alicia Clarke, Amie Elliott, Sasha Funston, Megan Johnston, Rachel Johnston, Chloe Kennedy, Scott Little, Matthew Moore, Rebecca Murray, Thomas Pendry, Emily Ross, Helen Rutledge and Courtney Wray. Also pictured are Bishop John McDowell, the Very Rev. Dean Kenneth Hall, Curates Rev. Rob Clements and Rev. Olivia Downey together with churchwardens Linda Corrigan and Jack Spratt.
---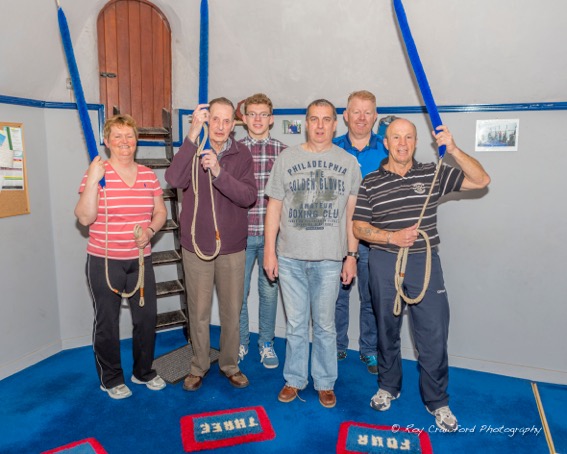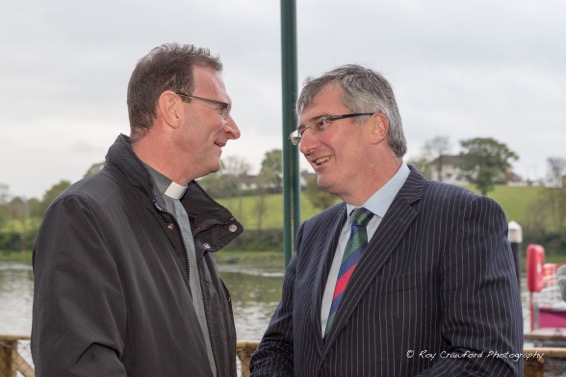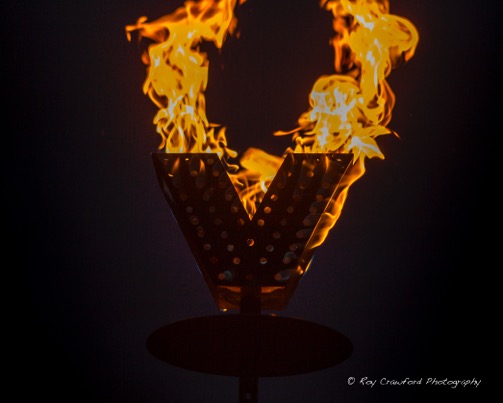 V.E. Day Celebrations
On Friday 8th May, V.E. Day was celebrated in many countries including our own. In Enniskillen, along with other events, a beacon was lit which joined 200 others throughout the UK in marking the seventieth anniversary of the defeat of Nazi Germany in the Second World War. Here in the cathedral, our bell ringers led by Stewart Scott, rang out a joyful sound commemorating the ringing of church bells throughout the land that had been silent for six long years, proclaiming the end of the war in Europe. (permission to reproduce photographs kindly granted by Roy Crawford Photography)
Dean Hall congratulates on his overnight victory, our newly elected MP for Fermanagh and South Tyrone, Mr Tom Elliott at the Anniversary celebrations.
A group of our campanologists who helped celebrate the day.
New: Scroll down for V.E. Day photographs.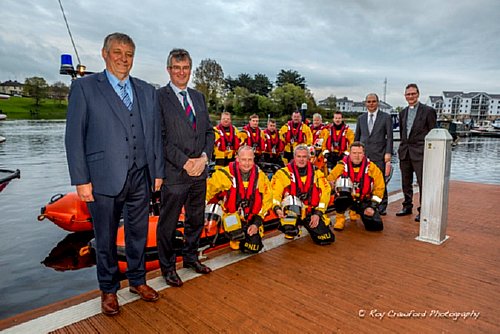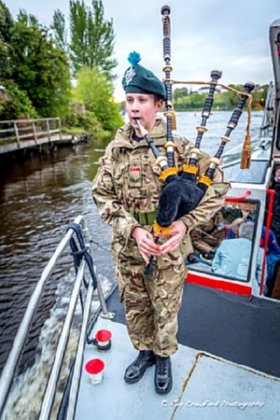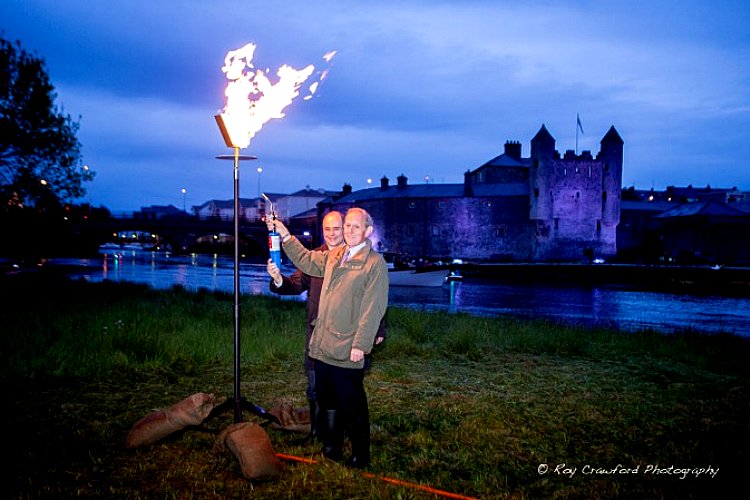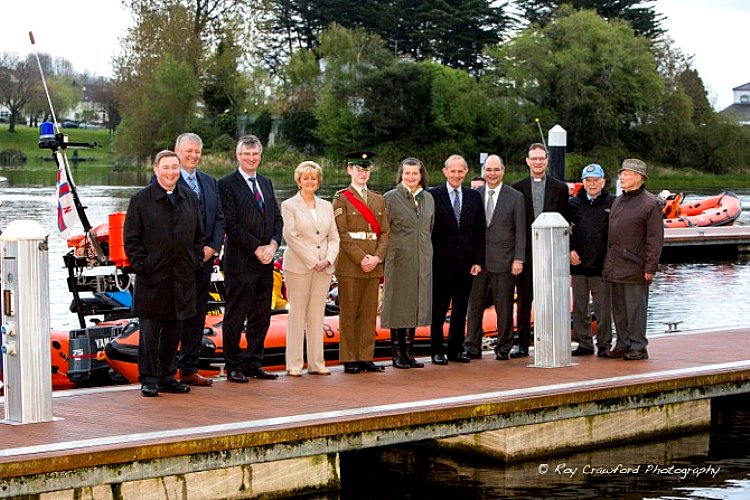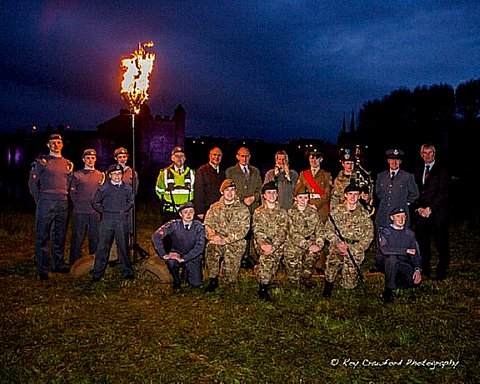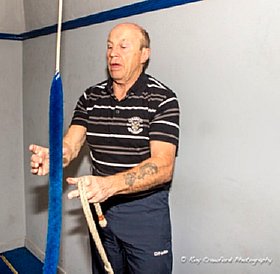 ---
Lighting the beacon are Viscount Brookeborough and Mr Gregory S. Burton, the Consul General at the U.S. Consulate in Belfast.