St. Macartin's Cathedral
Enniskillen, Northern Ireland
Welcome!

The Church of Ireland - part of the Anglican Communion
Services & Meetings
(last updated 20th May 2013)
St. Macartin's Church of Ireland Cathedral has a prominent position in the main street of Enniskillen, the largest town in County Fermanagh. The church has a long and distinguished history, much of which you will find on this website. If you know details that we haven't recorded, tell us and we will publish them!
Click HERE to listen to our bells (recorded in March 2003)
Hello, you are very welcome to our website! Whether you are already a church member or a visitor, we invite you to look around - you will find much to interest you!

If you have any comments you can use the form on the "Contact us" page.
---
We are somewhat surprised that there are church members who regularly use the Internet but are unaware that this website exists! So if you find it interesting and/or useful, please spread the word around - the more visitors we have the more encouragement there is to keep it alive.
---
---
To go to the Parish Hall redevelopment page and view our video, click
HERE
The Dean, The Very Reverend Kenneth R.J. Hall M.Phil. writes:

Dear Parishioners and Friends around the world,

St. Paul says of the Church in Ephesians 4:4-7 – 'we are many, yet at the same time we are one.'
We who belong to this Cathedral Parish Church dedicated to St Macartin are a team and our
team is defined by our relationship to Christ. In this passage we find some important principles
related to teamwork. Team work involves many people who are often very different. St. Paul reminds us in his letter to the Church at Corinth that there are different kinds of gifts but the same Spirit. There are different kinds of service but the same Lord. There are different kinds of working but the same God works all of them in all people. The key word in this passage is the word 'different'. It is mentioned three times. We have different kinds of gifts, there are different ways to serve and there are different workings. There is not just one gift that fits all believers. St. Paul says there are different kinds of service. In other words, there are different kinds of opportunities we have in which to use our gifts. What I do with my gifts may look different from how you use yours. Therefore team effort works for the good of everybody. We all benefit.

Scripture tells us that we have been given at least one spiritual gift for the common good or benefit of the body (Ephesians 4:16). Gifts are given so that they can be used through our service to others so that the Church can grow stronger. When St. Paul was writing to young Timothy, he was concerned that Timothy should not only be able to identify his spiritual gift, but that he would also actually do something with it. He said, "Do not neglect your gift"

Everybody in every Christian church has a God given gift to be used for His glory. That is not my assessment but God's message to all believers. I cannot underestimate the importance of these next few words - you are needed in your church wherever you are in the world. God has given you a gift and now He wants to use you. You are a valuable player on the team. No one can do everything but everyone can do something.

You have probably heard the story about four people in the church named EVERYBODY, SOMEBODY, ANYBODY and NOBODY. There was an important job to be done and EVERYBODY was sure that SOMEBODY would do it. ANYBODY could have done it but instead NOBODY did it. SOMEBODY got angry about this, because it was EVERYBODY'S job. EVERYBODY thought ANYBODY would do it but NOBODY realized that EVERYBODY wouldn't do it. It ended up that EVERYBODY blamed SOMEBODY when NOBODY did what ANYBODY could have done.

Teamwork makes a big difference in the amount of work that can be done - it makes a big difference in life and it can make a big difference in your church. It is critical that everyone gets involved in the process. An acronym for the word TEAM is....... TOGETHER EVERYONE ACCOMPLISHES MORE I was watching a wild life programme on penguins recently. In the midst of a fierce storm they huddle around each other to keep alive and warm. Those on the outside get cold and frozen, but those on the inside who are warm and comfortable constantly change places with those on the outside, and this team work constantly rotates. To me, this is a picture of the Church and how we should function - caring and sharing for each other. We have been created to work in community and to work together as a team. Why? Because we are better together!

When God called me to the ministry I did not feel that I was adequate for the task. When God calls you to do something at any level in the church that is perhaps the biggest obstacle in your path – that you do not feel adequate for the task. If we are growing in faith and love for the Lord, then we can 'give out' in faith and love to others, not because we have to, but because we want to. Working for God is an honour, not a bother. Nothing done for God is too little in His sight. Ask God for guidance - God, what are you doing in my church in which I can get involved? Do something - take a few steps. There is something for everyone to do. William Penn said: "I expect to pass through life only once. If therefore there be any kindness I can show or any good thing I can do to my fellow man, let me do it now and not defer it or neglect it for I shall not pass this way again." You may speak to someone today who is hurting and just needs you to listen. God's work does not have to be complicated. If ever the community in which you live needed your witness and if ever your church needed your involvement, it is now. Start right now! Rededicate your life to serve the Risen Lord. Get involved in the life and work of your church. Do something with the gift God has given you.

A man approached a Rector and told him he wanted to join the church but he did not think he had a lot of time to devote to attending church or serving God. He said, "I have a very busy schedule and can not be called upon to do any Sunday School teaching, nor do I have time to attend any organisations, get involved in cleaning in the church, or really serving in any way. I can not help with fund raising or outreach in any way as all my evenings are tied up." The Rector thought for a moment and then said, "I believe you are at the wrong church. The one you are looking for is on your way into the next town on the right hand side." The man left and followed the Rector's directions. He soon came to an abandoned, boarded-up church building. It had been recently closed. The Rector had made his point. Any church is really only a few steps away from becoming like that church. Often in church life it is left to the 'faithful few'. Don't let that happen in YOUR church!. My vision for our own church fellowship is to have a growing, strong, vibrant, caring church. I cannot do it alone, you cannot do it alone, but together with all on board – teamwork - we can achieve the full potential of St Paul's message to the Ephesian Church and make that message applicable to Enniskillen Cathedral Church.

"But speaking the truth in love, we must grow up in every way into him who is the head, into Christ, from whom the whole body, joined and knitted together by every ligament with which it is equipped, as each part is working properly, promotes the body's growth in building itself up in love." Ephesians 4:15-16

'This is our church' and 'this is our mission'. So I hope our people are ready and willing to help me to fulfil it.

So there it is – the challenge lies before you – no matter what church you belong to, get involved now! It will take all to have their 'shoulder to the wheel' – no time for spectators, all church members are needed as a team on the playing field - to work and to witness for Him. Let us remain strong and resolute in our efforts. May God add His Blessing to all we do!

Yours very sincerely,

Kenneth R. J. Hall
---
---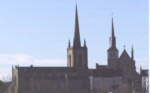 NEW - scroll down to see photographs from the sponsored walk on 28th April
On 28th April 2013 the cathedral staged a sponsored three-mile walk after church to raise money for the Hall Redevelopment Fund (the parish hall, that is, NOT Dean Hall!). This was really well attended and we are delighted to announce that the sum raised was around £3000. A week earlier, a Gospel concert featuring Dana and Live Issue raised around £5000. We are enormously grateful to everyone who in any way contributed to making these events a success. A special word of thanks to Ivan Kee who masterminded the concert and also had a significant part in organising the sponsored walk. A selection of photographs from the beginning of the walk now follows: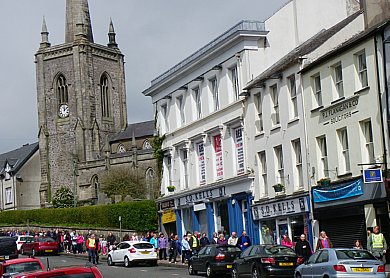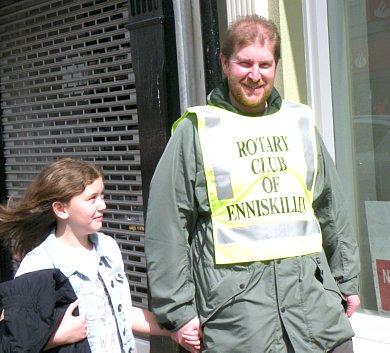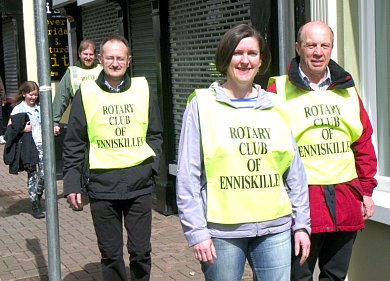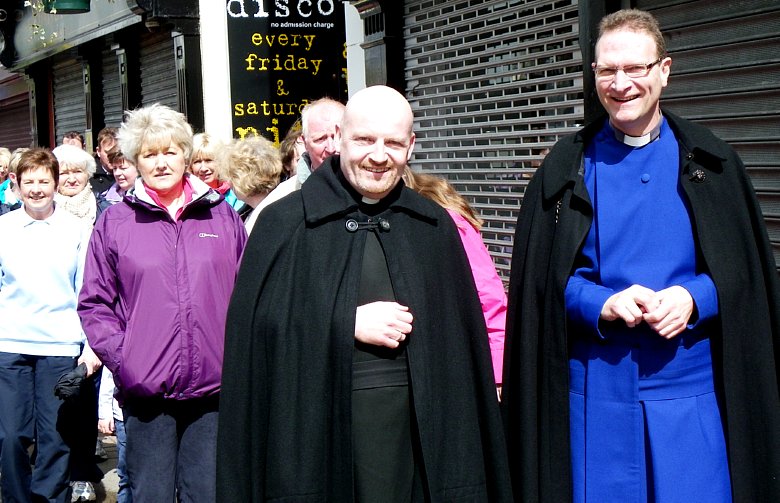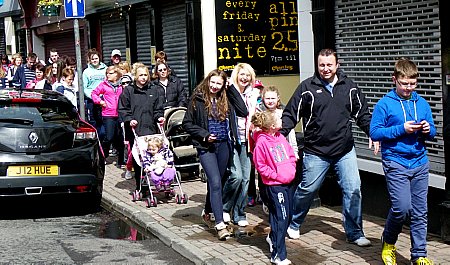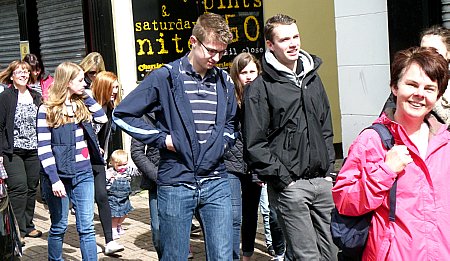 ---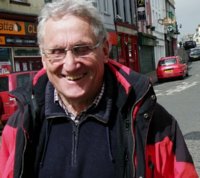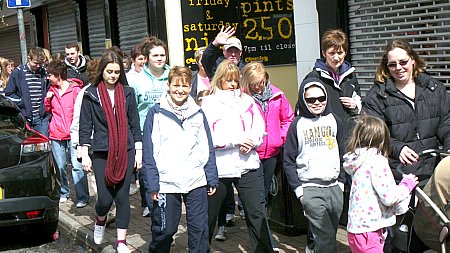 Sponsored Walk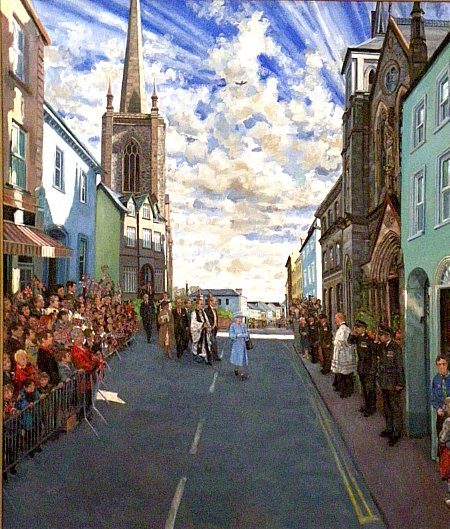 On temporary display in the cathedral in May is this enormous (6'x5') painting by established artist The Hon. Hector McDonnell. Commissioned by Canon Peter O'Reilly, it shows Her Majesty the Queen crossing the street between our cathedral and St. Michael's R.C. Church in June 2012. It will remain with us till after the Coronation Diamond Anniversary service on 2nd June 2013 before going on to the G8 Conference in mid-June.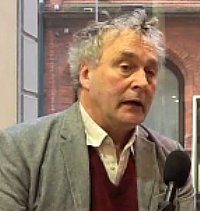 Hector McDonnell, the youngest son of the thirteenth Earl and Countess of Antrim, was born in 1947 in Belfast and raised at Glenarm in Co. Antrim. He was educated at Eton and Oxford. He has exhibited widely in Europe; Munich, Brussels, London, Stuttgart, Vienna, Paris, Stockholm and Madrid. He lives and works in Northern Ireland and New York.
Updated 20/5/13