St. Macartin's Cathedral
Enniskillen, Northern Ireland
Welcome!

The Church of Ireland - part of the Anglican Communion
Services & Meetings
(last updated 14th November 2014)
Hello, you are very welcome to our website. Whether you are already a church member or a visitor, we invite you to look around - you will find much to interest you!

If you have any comments you can use the form on the "Contact us" page. St. Macartin's Church of Ireland Cathedral has a prominent position in the main street of Enniskillen, the largest town in County Fermanagh. The church has a long and distinguished history, much of which you will find on this website. If you know details that we haven't recorded, tell us and we will publish them!
Click HERE to listen to our bells (recorded in March 2003)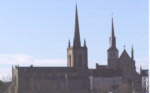 ---
---
---
To go to the Parish Hall redevelopment page click
HERE
THE DEAN WRITES:

Dear Parishioners and Friends around the world,

The Bible talks a lot about remembering. The Israelites are to remember the Lord who led them
out of slavery; the psalmist says "I will remember the works of the Lord"; and of course Jesus
commanded us to remember Him every time we celebrate Holy Communion in breaking bread and drinking wine.
Remembering is something that, as Christians, ought to be part of our very fabric – and November is a great month to be able to do that, with All Saints and All Souls, as well as Remembrance Sunday.

As well as remembering events from the past, and loved ones who have passed away, and giving God thanks for them, we should take time this November to remember Christians in other parts of the world who are suffering oppression, marginalisation and persecution. Sunday 16th November is the International Day of Prayer for the Persecuted Church (IDOP), so why not make a commitment to pray every day in November for our Christian family – in over 100 countries, from Iraq to India, from Sudan to Sri Lanka, from Cuba to China - who live in countries without religious freedom. They face difficulties, dangers and even death, and they desperately need our prayers.

Our Cathedral will be open on Sunday 16th November from 2.30pm – 6.30pm so if you are in the area that day, why not spare ten or fifteen minutes, drop in and quietly pray for those who so desperately need our prayers? There will also be an opportunity to make a donation through Bishop's Appeal to raise aid for Christians in Iraq – see pages four and five of our magazine.

So, as we head through November and towards the International Day of Prayer for the Persecuted Church, let us look back and praise God for what He has done; let us look forward and trust Him for what He will do; but let us also remember our worldwide Christian family as they face difficulties and danger because of their faith. And if you live in a country where religious tolerance is the norm, remember also to thank God for the freedom you have to worship Him and use that freedom each and every Sunday to gather in praise and prayer.

Yours very sincerely,
Kenneth R J Hall

---
We are somewhat surprised that there are church members who regularly use the Internet but are unaware that this website exists! So if you find it interesting and/or useful, please spread the word around - the more visitors we have the more encouragement there is to keep it alive.
---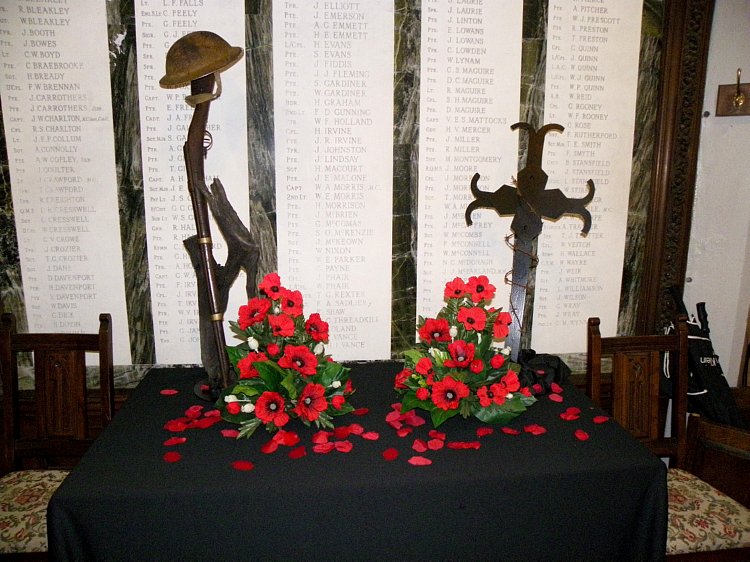 At the going down of the sun and in the morning, we will remember them.
Every year the table in the cathedral's entrance hall is specially decorated with the theme of remembrance. This photograph was taken in 2012. The wall plaque bearing the names of parishioners who died or who served and survived the First World War makes a very fitting background. Our annual remembrance service is always were moving. The Preacher this year was Rev Dr Isaac Thompson, TD, BSc, BD, MTh, HCF, minister of First Presbyterian Church Cookstown, Chaplain of Royal Irish Regimental Association, East Tyrone RUC GC Association, President of Cookstown Royal British Legion Branch and recently appointed Deputy Lieutenant of Her Majesty for Co. Tyrone. For the third year in succession we were delighted to welcome to the service the Irish Prime Minister (An Taoiseach) - Mr Enda Kenny.