St. Macartin's Cathedral
Enniskillen, Northern Ireland
Welcome!

The Church of Ireland - part of the Anglican Communion
Services & Meetings
(last updated 26th February 2014)
Hello, you are very welcome to our website, and a very happy and blessed Christmas to all our visitors! Whether you are already a church member or a visitor, we invite you to look around - you will find much to interest you!

If you have any comments you can use the form on the "Contact us" page. St. Macartin's Church of Ireland Cathedral has a prominent position in the main street of Enniskillen, the largest town in County Fermanagh. The church has a long and distinguished history, much of which you will find on this website. If you know details that we haven't recorded, tell us and we will publish them!
Click HERE to listen to our bells (recorded in March 2003)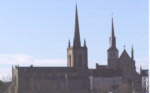 Four Evangelists, One Gospel

I visited the opticians recently and as most of you will know, one of the tests you get there involves identifying which of two sets of circles is clearest. The optician adds a series of lenses and wants to know if you find the object sharper with them or without them. During the Sunday mornings in Lent we have been thinking about the distinctive features of each of the four Gospels. We are blessed to have four different yet similar views of the life and work of
Jesus providing us with different lenses with which to see more clearly why He came, what He did and what it means for us.

In all four accounts of His life we see that the ministry of Jesus has a purpose, He does not simply wander through Galilee teaching and healing, He has a destination in view, Jerusalem; He does not just randomly perform miracles or expel demons, He has a destiny to fulfil, giving his life as a ransom for many. Meeting with Him changes people's lives – a widow's sorrow is transformed, a greedy man becomes generous, a prostitute is given dignity, the lost are searched out, the hungry are given food, those who follow him find hope and a place in God's kingdom.

Holy Week approaches when we would in heart and mind journey again to Jerusalem, make that journey so that as you see the providence and purpose of God in the life of Jesus you might see that providence and purpose worked out in the world of today and in your life today. Don't waste this season, take the journey so that you might meet afresh with the Lord and know his grace amid your trials and sorrows, and know His forgiveness for your sins and His redeeming hope for your life.

Canon Reggie Twaddell is our guest preacher for Holy Week; the series of united services begin on Palm Sunday evening at seven o'clock in the Presbyterian Church, continuing at 8.00 pm in the Cathedral from Monday to Good
Friday and concluding with Easter evening praise at seven o'clock in the Methodist Church. Canon Twaddell worked as a teacher prior to being ordained and served in several parishes before retiring after a long and faithful
incumbency in the large parish of Portadown.

In a changing world where we no longer speak about things being as safe as the Bank of England it is good to have the built in reminder that Holy Week and Easter bring of the eternal and unchanging message of the Cross and Resurrection. Together let us take the opportunity this special season brings to look again to the One the Gospels focus on, Jesus Christ our Lord.
---
We are somewhat surprised that there are church members who regularly use the Internet but are unaware that this website exists! So if you find it interesting and/or useful, please spread the word around - the more visitors we have the more encouragement there is to keep it alive.
---
---
---
---
To go to the Parish Hall redevelopment page click
HERE
THE DEAN AND CURATE WRITE:

Dear Parishioners and Friends around the world,

The students of the Church of Ireland Theological Institute will be joining us here
at St Macartin's for a mission this Holy Week with the title, 'This is our Church'.
This is an exciting opportunity for us to live out our parish vision to reach upwards to the throne of God in worship and adoration; inwards to one another in understanding and fellowship; and outwards to the world in evangelism and social compassion. There will be a service every night of Holy Week and the preacher will be our Bishop, the Right Rev John McDowell. The students from CITI Institute will be present to enrich our worship during the week. On top of this, the students will be drawing alongside the parish in a number of key areas.

Reaching out to children and families - There will be a special Holy Week "Messy Church" on Maundy Thursday from 4.00 - 6.00pm, as well as a "Messy Church" on the Diamond in the Main Street on Wednesday 16th April from 12.00noon - 4.00pm. This will build up to a Messy service in the Cathedral on the morning of Good Friday. Keep your eyes peeled for other "Messy Church" activities in the community during the week.

Reaching out to young people - There will be a confirmation café in a coffee shop in town for our young people currently preparing for confirmation, to encourage them to ask some of the tough questions of life and faith. We also plan a special youth event on the Saturday evening.

Reaching out to our elder folk - As well as increased pastoral visiting during Holy Week, there will be a special event on Tuesday afternoon for those aged 60 and above.

There are a few other ideas we are still planning. There may be an event planned for the 20s and 30s in the parish, possibly also something specific for men. A number of the students joining us from the college have great experience in community outreach so we hope they will bring a wealth of innovation.

'This is our church', clergy and parishioners together, so let us all make that claim this coming Holy Week as we come together to worship. In the meantime let us all use the season of Lent as a time of prayer and preparation. A time when, as we acknowledge before Almighty God our sinful nature, we receive forgiveness and then refreshment. It is important that we realise that everyone needs to make sure our experience with God is fresh and renewed. None of us are so spiritual that we do not need to experience personal revival from time to time. None of us are so spiritual that we do not need to attend church. None of us are so spiritual that we do not need to spend time in prayer or to spend time reading the Bible. We all need times of refreshing and if we do not care, we will find ourselves growing cold and indifferent in our relationship with God and with others. May you all experience the joy of worshipping God in a new and refreshed way this Lenten Season!

Yours very sincerely,

Kenneth R.J. Hall
Rob W. Clements

---
NEW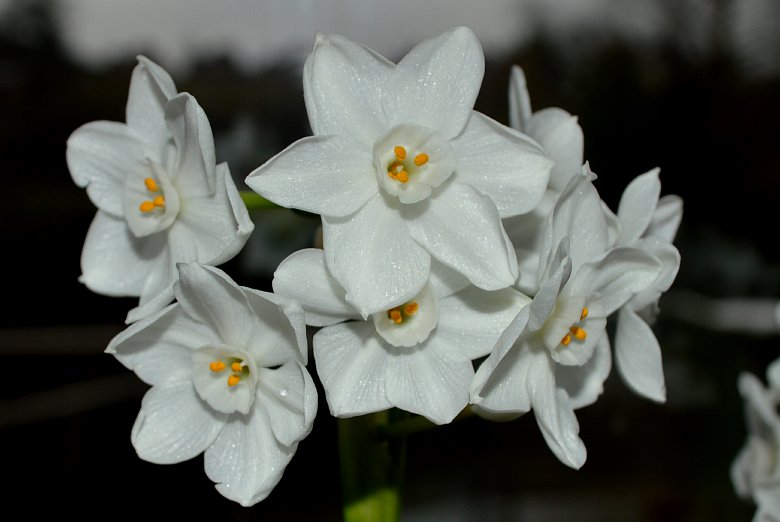 Were you at the "Top 10 Hymns" service? If not, you can listen to them here - click on the button above.
Matthew 6: 28-29 : "And why are you worried about clothing? Observe how the lilies of the field grow; they do not toil nor do they spin,yet I say to you that not even Solomon in all his glory clothed himself like one of these."

Photo: "Winter Narcissi" - William Holmes

LENTEN SERVICES

ASH WEDNESDAY (5th March)
7.30pm – Penitential Service with Holy Communion

LENTEN SERVICES
Thursday 6th March 11.00am – Holy Communion
Wednesday 12th March 7.30pm– Compline
Thursday 13th March 11.00am – Holy Communion
Wednesday 19th March 7.30pm – Compline
Thursday 20th March 11.00am – Holy Communion
Wednesday 26th March 7.30pm – Compline
Thursday 27th March 11.00am – Holy Communion

CATHEDRAL PARISH MISSION 2014
'This is our Church'.
Palm Sunday 13th April: 9.00am Holy Communion
10.45am Palm Sunday Procession from Cathedral Hall
11.00am Family Service
7.00pm Palm Sunday Praise

Monday 14th April: 7.30pm Service
Tuesday 15th April: 7.30pm Service
Wednesday 16th April: 7.30pm Service
Thursday 17th April: 11.00am Holy Communion
4.00pm Messy Church in Cathedral Hall
7.30pm Service
Good Friday: 10.45am Good Friday Procession from Cathedral Hall
11.00am Family Service
7.30pm Service
Easter Saturday: 7.30pm Xplore Youth Event
Easter Sunday: 9.00am Holy Communion
11.00am All age Service with Holy Communion

Special Events
Monday 14th April: 6.30pm Confirmation Café (venue to be decided)
Tuesday 15th April: 2:00pm to 4:00pm for over 60s including the Tuesday Club
Saturday 19th April: 9:00am – 10:30am Parish Family Breakfast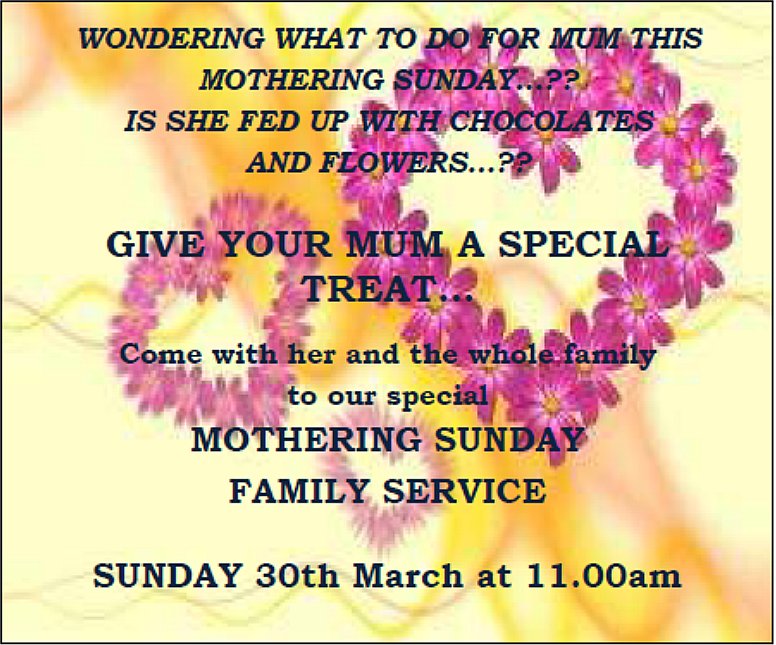 ---