St. Macartin's Cathedral
Enniskillen
---
We have launched a gallery of church related photographs hosted on the Google Photos Website, starting with albums relating to events in 2016 and 2017. Other albums will follow. To access them on PC, Apple computer, smart phone or tablet, click HERE for 2016 and HERE for 2017. When the album loads, click on any one photo and it will enlarge and display singly. You will see buttons at the top right which give you controls such as zoom and run a slideshow. A button with an "i" on it will display information about the photograph where appropriate. Your feedback - and new photographs - would be appreciated!
---
---


Welcome to our website! Whether you are a regular member, occasional visitor or just simply curious, we hope you will find information here that will be interesting and relevant. Perhaps you are planning a trip to Northern Ireland. We would strongly advise making beautiful County Fermanagh part of your itinerary. During the summer our four-century-old church is open to visitors every day and it would be even nicer if you could attend one of our services. We'd love to meet you!
The Dean Writes:

Dear Parishioners and Friends around the world,

We are in no doubt living in times of high anxiety, with great concern over the state of our country – Brexit looming, the
continued threat of terrorism, and the aftermath of two elections (NI and UK) which resulted in unstable government! Polarisation and tensions are high! However two thousand years ago, things may have been similar. "I hear that there are divisions among you." (1 Corinthians 18:11) are the words of St Paul to the Corinthian Church, highlighting a sense of poor or no communion with each other! The liturgy we use each time we share in Holy Communion is drawn directly from the words St Paul writes; the earliest record we have of the regular practice of communion in the Christian Church. St Paul's observation of the Corinthian people then is also true of our world today. Do you hear of divisions? When you look around you, do you see divisions? I certainly do, and it seems like we are becoming more divided all the time! This political division has spilled over into our communities, our neighbourhoods, our churches, and even our families, not to mention our world. The places we could once count on for unity are rapidly deteriorating as divisions grow!

Therefore let us consider what Paul is getting at when he brings up the division among the Corinthians. Corinth was a bustling city at the crossroads of several major trade routes. It was a prosperous city, but like all cities then and today, there were the rich, the working class, the poor, and in St Paul's time - slaves. The new converts to Christianity in Corinth came from all walks of life, but rather than gathering as one for worship, they kept their distinctions, even on the occasion of the Lord's Supper. You see, at that time, when Christians observed the Lord's Supper, they actually gathered in homes and shared an entire meal with people with whom they were comfortable. So, in Corinth, when this meal was shared, the rich were eating and drinking lavishly, while the poor were going hungry. They were divided.

You see, at the Lord's Table all are equal. On the night He was betrayed, when Jesus gathered the disciples for a meal, there were, around that table, once rich tax collectors and ordinary fishermen. Before the meal even began, Jesus knew that two of the people sitting there would sin against Him; one by betraying Him, and one by denying Him. Still, Jesus served them all equally. He knelt and washed their feet; He broke the bread for them and shared the cup with each one of them. Their economic status did not matter. Their religious past did not matter. Their weaknesses and failings did not matter. The colour of their skin did not matter. Their political views did not matter. Their country of origin did not matter. This meal was for each of them, equally. All that may have divided or distinguished them in the world outside that Upper Room was of no significance in Christ's presence, and that's why this meal is so important even today, particularly concerning divisions.

Even when we are not partaking of Holy Communion in the church, we should be practicing 'communion' in the world. We should be living as if there are no divisions, and where there are divisions, we should be working to tear down the walls that divide! We as Christians are not doing enough to break down the divisions that exist in our world today. We are not doing enough to practice 'communion' and work towards the unity God expects of us. So do not let the ways of the world or politics divide us. In Christ, we all are one, and we should be living as one every day!

As Jesus said to those fearful disciples in that upper room, I say to all of you who have fears or concerns this day and for the future of yourself, your family, your community, your country or the world at large, whatever those fears and concerns may be. 'Peace be with you, the Peace of the Risen Lord.'

I do hope that you who live in the northern hemisphere all have a pleasant and refreshing summer, whether at home or on holiday and may you experience the peace of God and be able to share that peace with those with whom you come in contact.

Yours very sincerely,

Kenneth R J Hall
Last updated 28th July 2017
Search for any word
on this website:
---

Scroll down to find links to our photographic gallery. 2017 is now live.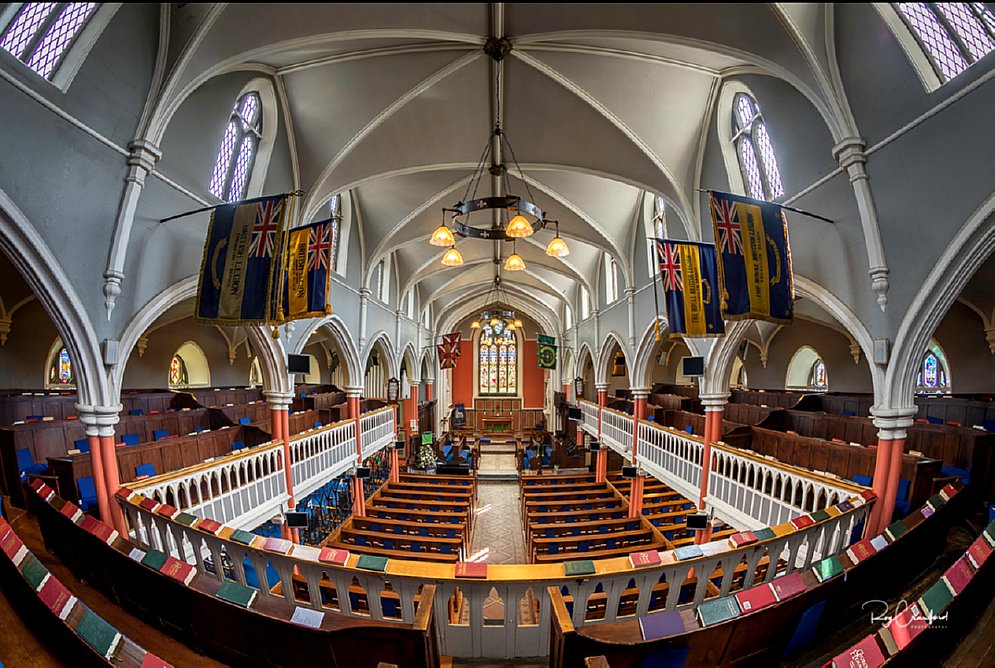 "Fish eye" view of the interior, courtesy of Roy Crawford Photography
http://www.roycrawfordphotography.co.uk/