St. Macartin's Cathedral
Enniskillen
---
---


Welcome to our website! Whether you are a regular member, occasional visitor or just simply curious, we hope you will find information here that will be interesting and relevant. Perhaps you are planning a trip to Northern Ireland. We would strongly advise making beautiful County Fermanagh part of your itinerary. During the summer our four-century-old church is open to visitors every day and it would be even nicer if you could attend one of our services. We'd love to meet you!
The Dean Writes:

Dear Parishioners and Friends around the world,

This year Remembrance Sunday (11th November) marks the centenary of the end of World War 1. Of the 65 million men who
were mobilized, 8.5 million were killed and a further 21 million wounded. How should we celebrate this anniversary?
In remembering the armistice, our response should be to desire Micah's vision of universal peace in our world: 'They will beat
their swords into ploughshares and their spears into pruning hooks. Nation will not take up sword against nation, nor will they train for war anymore.' (Micah 4:3).

The Bible makes it clear that peace is not just the absence of war or being untroubled. It means being in a right relationship with God through Jesus Christ, with other people and with the wider society. Micah's words are looking to the end of time when God will make all things new in His kingdom. However, these promises also speak to us now. The ministry of Jesus demonstrated the kingdom or reign of God breaking into the everyday, as He healed the sick and brought reconciliation and hope.

The centenary of the end of World War 1 is a time to consider peace. Although the war did not bring a lasting peace to the world, there is a deeper lesson for Christians. Peace begins with the healing of hearts and the restoring of relationships. For the Christian, remembrance also presents a unique opportunity to meditate on the way of peace.

In the life and teachings of Jesus we see that God establishes peace in His world in an unconventional way. Jesus does not enter into violence in order to defeat the enemies of God. Instead, Jesus chooses the way of non-violence. Jesus lays down his life and dies at the hand of God's enemies in order to defeat evil. Only then does God raise Jesus from the dead in victory over sin and death. In the person of Jesus we see the perfect example of humble obedience, sacrificial love, and life-giving peace.

After His resurrection and before His Ascension, Jesus said "Peace be with you. As the Father has sent me, even so I am sending you." Therefore we are called to be God's messengers and what is more, we are called to embody God's peace in the world we live in and to be His peacemakers! So in this season of 'remembrance' let us use the opportunity and prayerfully take to heart the radical message of the Prince of Peace and follow His way of reconciling love. Let us discern together the ways in which God is calling us to be peacemakers in His world!

'Blessed are the peacemakers, for they will be called children of God.' (Matthew 5:9)

Yours very sincerely,

Kenneth R J Hall
Last updated 15th November 2018
Search for any word
on this website:
---

---
---
If you like Christian rock music, you may well enjoy listening to Spirit Radio, broadcasting from the Irish Republic. The station is rapidly expanding its network of FM transmitters to reach larger cities in the State but there is also Medium Wave coverage on 549 metres (545KHz), accessible in most of the Republic and in all of Northern Ireland. Its website is at
https://www.spiritradio.ie/
and you can listen on-line at
http://streamdb5web.securenetsystems.net/cirrusencore/SPIRITIE?stationCallSign=SPIRITIE
(or click on the icon beside this text).
Admittedly, its greatest music appeal would be to people in the age range 15-35, but there are also inspirational messages, information features and news bulletins with at times a distinctly Christian slant. It is entirely non-denominational.
---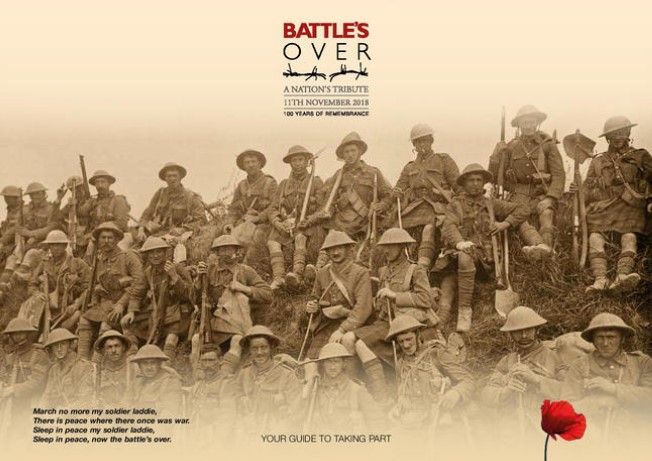 Remembrance Sunday this year was extra special because it marked exactly 100 years since the end of hostilities in the First World War. Events that took place on that day are as follows:
6.00am - Short service for the entire community at Enniskillen Castle
hosted by the Inniskillings Museum.This was a national event, with similar services taking place throughout the world as news of the Armistice reached towns and villages.Enniskillen has the distinction of being the first town to proclaim the armistice when a radio operator picked up the faint Morse Code message shortly after 6.00am and launched skyrockets into the sky followed by the ringing of the Cathedral bells. During this service The Viscount Brookeborough presented the clergy of the four main churches in the town with a lit lantern to symbolise the light returning to a community after four long years of war, and the hope that Peace brought to all. This commemoration was inspired by a comment made on 3rd August 1914 by Britain's Foreign Minister Sir Edward Grey, when he said,
"Lamps are going out all over Europe; we shall not see them lit again in our lifetime."
10.50am - Short religious service at the Cenotaph

11.00am - Act of Remembrance at the Cenotaph

11.30 am -
The clergy were asked to take the lanterns to their own morning services which were a time of reflection, remembrance and rejoicing that the Great War had ended exactly 100 years ago. Our own service was broadcast live on RTE Television from 11.30am.
Guests from the British, Irish, American and Polish Governments and Her Majesty's Lord Lieutenant for County Fermanagh were in attendance.
A recording of the service can be viewed by clicking HERE:

6.00pm - Service in St Michael's Roman Catholic Church
All four congregations, joined together for a special evening service in St. Michael's Church. As a symbol of unity within our Church community, each member of the clergy at their respective Churches walked with members of their congregation and the lit lantern to St Michael's Church for 6.00pm. As the service commenced, the clergy and our choir entered St. Michael's with their lit lanterns and light filled the church.
As the congregation left St Michael's, 100 musicians from the County Fermanagh Massed Pipes and Drums played a selection of hymns.. Everyone then joined Viscount Brookeborough who carried a light across the street and lit a beacon in the grounds of St Macartin's Cathedral, with the sounds of bells and skyrockets similar to 100 years ago. The Cathedral Clock was lit for the first time and will remain lit at night in perpetua to reflect light, hope, peace and reconciliation!

An album of photos and a video are in preparation - further information will appear on this website when they are live.
---