St. Macartin's Cathedral
Enniskillen
---

Please note the site is undergoing reconstruction, so pages are rather sparse - but that will change over the weeks ahead!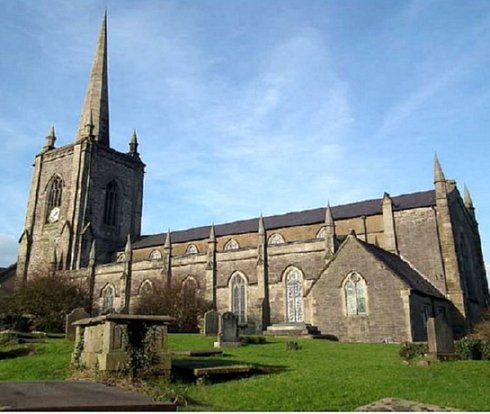 ---
---


Welcome to our website! Whether you are a regular member, occasional visitor or just simply curious, we hope you will find information here that will be interesting and relevant. Perhaps you are planning a trip to Northern Ireland. We would strongly advise making beautiful County Fermanagh part of your itinerary. During the summer our four-century-old church is open to visitors every day and it would be even nicer if you could attend one of our services. We'd love to meet you!
THE DEAN WRITES:



Dear Parishioners and Friends around the World,

Here in the northern hemisphere, the summer is now coming to an end and I hope many of you got a break from the routine
things of life. Even if you did not get away at least I hope you took some rest from your regular pattern of life. The balance of
work, rest and play is a Biblical one and at its heart lies the Sabbath principle. God himself established this principle when He rested from His work on the seventh day and made it holy (Genesis 2:2). He set aside a special day for people to gather for celebration and worship. It also provides an opportunity for rest and refreshment, as a break from the routines of life. The Jewish Sabbath runs from sunset to sunset and so begins with food and sleep. However, Christians celebrate the Sabbath on the first day of the week. It is not so much about stopping at the end of a hard week's work, as recognising that the whole of life is sustained by God.

Sabbath is also an attitude, not just a single day! It invites us to take the principles of resting and celebration into everyday life. There are seasons or periods of extended rest, that is holidays or mini breaks, which aim to positively renew us. However each day we can make 'Sabbath moments', when we try to be still and appreciate the day. It is a great way of using idle moments, for example, waiting in traffic around our busy towns and cities! There is no use getting in a tizzy about that, for it only increases blood pressure, so make use of this time in a different manner!

Developing these attitudes will increase our appreciation of God and his world especially the beauty of the world. The best appreciation of God and of all He does in our everyday lives is when we regularly attend His house. For us in the Enniskillen area, there are three services in the Cathedral each Sunday: 9.00am, 11.00am and 7.00pm, to suit the early riser or those who want a 'lazy' Sunday. If you work on a Sunday and are off work mid-week, there is now a regular 11.00am Thursday morning service.

So lots of opportunities to withdraw from the hustle and bustle of life and spend time in the presence of God in His holy house. When we do that we find that we are enriched and strengthened to meet, and to contend with, whatever anxieties or problems that may arise in our daily lives.

"I was glad when they said to me, "Let us go to the house of the Lord!"" Psalm 122:1

Yours very sincerely

Kenneth R J Hall
Last updated 7th September 2016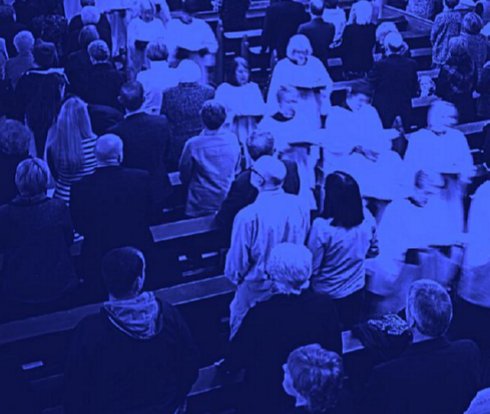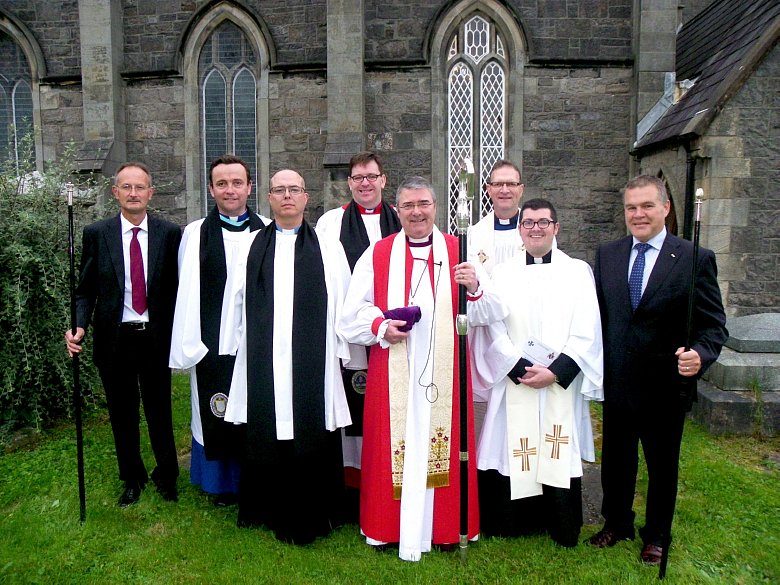 Pictured before the ordination service for Rev. Philip Bryson and Rev. Chris Mac Bruithin on Wednesday 7th September 2016, are (from left), Mr Noel Johnston (churchwarden), Rev. Canon Henry Blair, Rev. Philip Bryson, The Venerable Andrew J Forster (Archdeacon of Ardboe, Diocese of Armagh), Bishop John McDowell, Dean Kenneth Hall, Rev. Chris Mac Bruithin and Mr Jonathan Woods (churchwarden). Rev. Chris is to be the cathedral's new curate.
---